Attend Free Comic Book Day at local comic shops on Saturday, May 3 for free comic books and fun activities.
The biggest event in the comic book industry, Free Comic Book Day, is taking place Saturday, May 3 at participating comic book specialty shops worldwide. This year marks the biggest FCBD event yet, with 60 free comics for new and devoted comics fans to discover, while also exploring what other treasures their local comic shop has to offer.
Comic shops will pass out free comics and host community events such as costume contests, drawings by guest artists, creator signings, raffles, door prizes, photos with costumed characters, and other community building activities throughout the day. Every comic shop celebrates FCBD in their own unique way and fans have an opportunity to see their local comic shop's personality.
Celebrating its thirteenth year,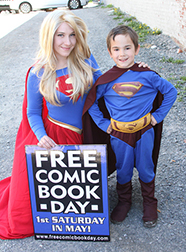 FCBD's mission is to introduce friends and family to the many wonders available at local comic book shops. From super-heroes to slice-of-life to action/adventure and beyond, FCBD has a comic book for everyone. Titles Archie, Hello Kitty, Grimm Fairy Tales, Guardians of the Galaxy, The Simpsons, Teen Titans Go!, Transformers, and many more are on this year's roster for fans to discover. Complete descriptions of all 60 FCBD titles, along with four-to-six page previews, can be found at freecomicbookday.com/comics.
"Free Comic Book Day gives new and devoted comic book, entertainment, and pop-culture fans the opportunity to get great titles for free, while participating in fun and interactive comic shop events," said FCBD spokesperson Dan Manser. "One of the best parts about Free Comic Book Day is discovering that you are a part of a giant community of like-minded fans who love the same stories, TV shows, and movies that you do. The comic shop is really a great place to meet your new best friends and discover the stories that will entertain you and enrich your life."
For more FCBD news and updates, and to find comic shops participating in FCBD near you, visit freecomicbookday.com.