Classic Bedtime Story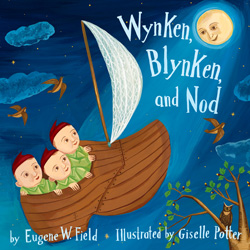 For those parents who have treasured the classic Dutch poem, Wynken, Bynken, and Nod, a storybook arrives in stores to enthrall a new generation. The story of three fishermen who sail off into a sea of dew comes to life with whimsical depiction by award-winning illustrator, Giselle Potter. The illustrations combined with the lyrical verse make this a top on anyone's bedtime story list. Ages 3-7. Schwartz & Wade Books. $16.99.
Dreamhouse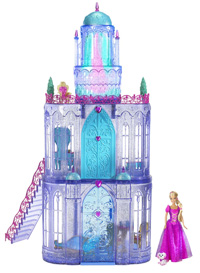 Every girl's dream dollhouse comes alive in the new Diamond Castle Palace Playset, complete with a royal dining area, salon with couches and chairs, a bedroom, and vanity room. The three-foot tower lights up with different colors and flashing patterns, and also features music and sounds. The castle is a replica of the one in the new princess-themed DVD to premiere this fall: Barbie & The Diamond Castle. Castle also includes a doll of Princess Liana, one of the characters from the movie, and her puppy Sparkles. Ages 3 and up. $79.99.
Instant Attraction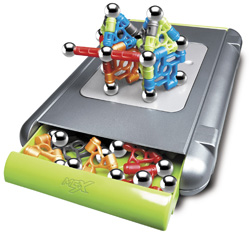 If your child is a fan of magnets (and what child isn't?), the new MagNext construction system will entertain kids for hours. Various sized interlocking bars enable children to create an assortment of building possibilities. The 40-piece set comes in a portable drawer case where all pieces can be stored at home or on the go. Parents will appreciate the care that went into the manufacturing; the set was designed in partnership with Intertek, a leading safety lab to ensure safe magnetic play. Magnets are securely molded into the plastic bar so no small pieces can be swallowed. Ages 6 and up. $19.99. www.megabrands.com.  
Hands-on Reading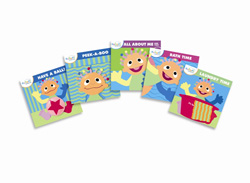 Experts agree that reading should be fun, and the creators of eebee's adventures have taken note. The book series consists of five interactive, cloth books specifically designed to engage babies and toddlers. One book, laundry time adventures,makes fun of the mundane: doing laundry. Kids can pretend to take the soft towels out of the laundry bag and put them "into the washer," spin the peek-a-boo washing machine wheel to wash the laundry, and hang eebee's pajamas on the line. When the laundry is finished, kids then put them away in the drawers. Ages 6-36 months. $14.95. www.eebee.com.