The Dahesh Museum of Art's current exhibit — Stories to Tell: Masterworks from the Kelly Collection of American Illustration — could be subtitled, "The Good Old Days". It's yet another opportunity to expose your kids to a bygone era, when artists commissioned to do illustrations for books and magazine covers, and even newspaper advertisements, created their work first in colorful oils, watercolor, and pen and ink — on large canvases, with an eye to detail that would give most of today's computer software a run for its money.
These were artists like Maxfield Parrish, N.C. Wyeth, Charles Dana Gibson, and Joseph Leyendecker, who were feted for their work in what was truly a Golden Age. It began in the 1880s with advances in printing techniques that surpassed the murky engravings that had been the norm, allowing for reproductions that were close to direct copies. The artists went to town, creating canvases that continue to amaze and delight today. The illustrators were paid large sums and drew fame for what was purely commercial work even then. When the Golden Age came to a close around 1930, with the widespread use of photography, an art form was lost. But this exhibit — 90 masterworks hang in the Dahesh's elegant but accessible galleries — gives us an opportunity to appreciate the work and the times. It is a microcosm of American talent and society.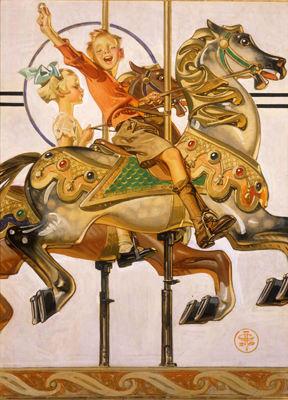 Kids 8 and up will enjoy the paintings that N.C. Wyeth, patriarch of the painting dynasty, did for covers and bookplates (yes, novels, with illustrated pages!) of such classics as The Boy's King Arthur (1917) and The Scottish Chiefs (1921). Or William James Aylward's 1925 version of Captain Nemo discovering Atlantis for an early printing of 20,000 Leagues Under the Sea. They can view a painting, and then see it reproduced in book form nearby. If you've been reading Jessie Willcox Smith's storybooks, kids can spot their favorite subjects — small, winsome children watering the garden or practicing piano scales. Don't miss Howard Pyle's 1887 book, The Wonder Clock, which includes a tale for every hour of the day.
Older kids and their adults will enjoy the original Saturday Evening Post covers by Leyendecker and Norman Rockwell, and the social commentaries like Maxfield Parrish's 1909 cover for Collier's magazine: Young American Writes the Declaration of Independence, showing a journeyman with quill in hand, sitting on a bomb.
The Dahesh makes for a great gallery wander — and a special treat awaits in their second floor Café Opaline, a sleek restaurant/coffee shop overlooking Madison, which serves afternoon tea and lunch. Café Opaline also does a 'Teddy Bear Tea' daily, 2:30-5pm; treats include hot chocolates, PB&J pinwheels, grilled cheese, and eggs and soldiers (toast fingers saluting a bowl of scrambled eggs).
The Dahesh offers regular Family Programs, free with museum admission. Upcoming are: Children's Story Time (April 27 & May 18) for ages 3-4; Young Illustrator Workshops, for ages 6-12, on the same dates; Posters for the People, creating ad posters, on April 29; and Book-o-Mania, illustrated book workshop, on May 6. Reservations are suggested: (212) 759-0606, ext. 249, or email: [email protected]
The Stories To Tell exhibit runs through May 21.
Info:
Where: 589 Madison Avenue (at 56th Street)
When: Tuesday-Sunday, 11am-6pm. Closed Mondays and federal holidays.
How much: $10 adults; $8 seniors; $6 students. Free for kids under 12 with an adult. Pay-as-you-wish, 6-9pm, First Thursdays.
For more info: (212) 759-0606; www.daheshmuseum.org