Related: tae kwon do, scholarship, applicant, martial arts, harlem, new york city, kids, child, nyc,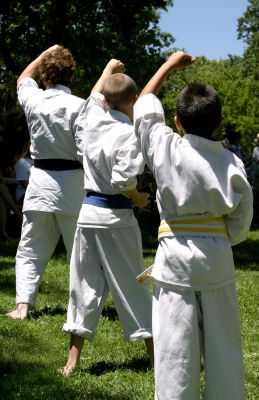 New York, NY – "Harlem Tae Kwon Do" is currently seeking qualified applicants ages 6 and up for their "One World Taekwondo" scholarship program. When selected for the program, scholarship recipients will be getting the benefits of a martial arts education at the Harlem location on 116th street between Adam Clayton Powell and Frederick Douglas boulevards.

Applications for scholarships or tuition assistance are available on the One World Taekwondo website at www.oneworldtkd.org or by calling the office at (347) 624-5546.

Research has shown that children participating in some type of martial arts education learn to be disciplined and focused. Additionally, their self-respect, self-confidence and respect for others increase. Because academic integrity and personal responsibility are key values of the school, a homework room is provided and equipped with computers and printers for student use. Students must maintain good academic standing in order to remain eligible for taekwondo classes.

One World Taekwondo Foundation was established as a non-profit organization to support the Harlem community through giving children and adults the opportunity to change their lives by experiencing the discipline and power that come from practicing a martial art. Those who practice a martial art experience a spectrum of physical, mental, social and even spiritual benefits. Besides physical fitness and personal security, students develop learning skills, discipline, respect and determination.
Scholarships or tuition assistance for adults are also available when there is demonstrated financial need.

For any questions concerning the application, the Foundation, or the school, please contact Andrea Wood at (347) 624-5546 or email [email protected] For additional information about One World Taekwondo's mission and programs, visit www.oneworldtkd.org.
Related Articles:
Is Your Child Ready for... Sports?

More News & Tips: Sports Articles
Family-Friendly Bowling Alleys in the NY Metro Area
Help Your Child Choose the Right Extracurricular Activities
Rockland Soccer Academy to Offer Lessons in New City
Triathlons for Kids: How to Get Them Race-Ready
Where to Find New York-Area Mini Golf Courses

Be a good fellow parent and share this with a friend who would be interested
Local News & Tips: Sports Sponsors
See Our News & Tips: Sports Directory