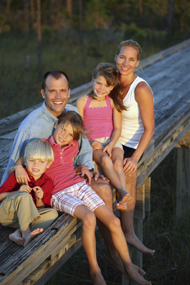 Your kids need a vacation. Seriously. Eight hundred six- to 17-year-olds recently answered a marketing survey that found they were stressed out from school and extracurricular activities and they needed a holiday. But taking the family on vacation is no reason to give your green principles a holiday:
Do your research: Families are increasingly looking for "meaningful" vacations — the chance to explore another culture, view wildlife in its natural habitat, and spend time reconnecting as a family. Vermont's awesome family ski resort Smugglers' Notch incorporates green family activities into their usual ski packages, giving families a change to reconnect not only with each other but to nature. Fairmont Hotels are notoriously green — the Maui location encourages families to get involved in protecting the endangered haawsbill turtle. Do your research and find a spot that suits.
Choose your mode of transport: While plane travel seems the obvious choice, consider alt modes for your family trip. Travel by train can make the trip itself the highlight, the destination secondary. If you're planning a car trip, inflate tires properly (this can improve mileage by three percent), tune your engine (which can improve mileage a further four percent), replace air filters (to give as much as 10 percent better fuel efficiency) and use motor oil marked as "Energy Conserving" as it reduces friction and improves mileage. Once you arrive, consider getting around on foot (or stroller!), transit, or, weather permitting, bicycle.

Hotel Hit List: We all want to stay at a place with clean rooms, a great view, friendly staff and comfortable beds. But you might also want to know whether the hotel is eco-friendly, respectful and fair to its staff and a contributor to the local economy. Justin Francis, who wrote 10 Ways to Tell If your Eco-Lodge is Really Eco for responsibletravel.com, suggests a few questions travelers can ask to find out:

—Is there a written policy regarding the environment and local community?
—How many locals are employed? Any in management positions?
—How is waste water treated? How is the building heated?
—Ask what ways you can help out while you're there to make your trip more rewarding for you and your destination. Re-use your linens? Shorten your showers? Turn off lights and electronics when you're not in the room?

Food for thought: Eat SOL food — Sustainable, Organic and Local. Steer clear of seafood that is endangered (print out Monterey Bay Aquarium's great to-go wallet guide by visiting www.mbayaq.org/cr/cr_seafoodwatch/download.asp. To save money and avoid the usual deep-fried kid food offered by most restaurants, pack a picnic basket with dishes and cutlery so you can visit a local store and put together your own on-the-go fare.

Green gear for the road: Ensure that you take along your reusable bags and water bottles to avoid picking up petroleum-based plastic versions.

Tips for eco-tots: Pack a nightlight so you don't have to leave a bathroom light burning all night to assuage the fears of tiny travelers. Seek out eco-disposable diapers (Seventh Generation has a good version that's widely available).

LESLIE GARRETT is a mother of three, author of 'The Virtuous Consumer: Your Essential Shopping Guide for a Better, Kinder, Healthier World (and one our kids will thank us for)', and also writes The Virtuous Traveler, which appears on the website of NBC travel editor Peter Greenberg (www.petergreenberg.com). Visit her at www.virtuousconsumer.com.