Homework can be a daunting task for students and parents alike. Making schoolwork a priority in your home sends the signal that you care about your child and her future.  Below are some tips to help ensure your child is set up for homework — and academic — success.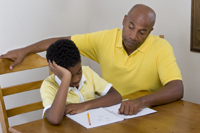 Make a Schedule
   Make homework part of a schedule that includes other fun activities. Children will look forward to those activities and work toward them. 
The Right Space
   The environment where you child does his homework can have a significant impact. Look for a location in your home where there is good lighting, limited distractions and comfortable seating.
Remove Distractions
   Limiting distractions will allow children to focus their attention on their homework assignments. Turn off the TV and have your child avoid using the telephone until homework assignments are completed. Ask other family members to participate in quiet activities while your child completes her homework.
Supplies and Resources at the Ready
   Supplies such as pencils, paper, a dictionary, and a calculator may be necessary for children to complete homework. Also, check your local library for books, information resources, and websites that may be helpful for completing assignments.       
Don't Forget a Healthy Snack
   According to the American Dietetic Association, children who eat balanced snacks pay attention longer in class, make fewer mistakes on tests, and generally have fewer behavioral problems.  A small snack will be an energy boost to help your child stay focused and be efficient in her studies.
Be a Role Model
   Children will copy their parents' tendencies, so it is important to read to your children, have them read to you, or read nearby while they are studying as a way of showing support. Another idea: while your child is working on his homework, let him see you completing tasks such as paying bills or other chores.  
Talk to Your Children About Their Classes
   Know what classes your child is taking, what the regular homework assignments are in each class, and which one they like and which they struggle with. Knowing about assignments allows you to make sure your child is scheduling enough time to prepare them and avoid last minute stress, and open communication will help your child feel comfortable asking for help when homework becomes difficult.  Also, most schools have Internet access to teachers and homework resources. Make sure you are familiar with these tools and use them to keep in touch with your child's teachers.  
Reward Success With Praise
   Displaying good grades or significant improvement can boost your child's confidence.  An A+ on the refrigerator will be a reminder to your children that when they apply the effort, they can achieve success. Share your accomplishments with other important people in your child's life so that they can also reinforce and recognize success. 
JANEAL ROBERTS is vice president of education for School Partnerships. She is a 28-year veteran of Knowledge Learning Corporation, the early childhood and school-age education and care provider that owns and operates School Partnerships. She has served in roles including kindergarten classroom teacher, master teacher, center director at multiple locations, curriculum specialist, and school-age education specialist. School Partnerships, headquartered in Littleton, CO, is a provider of learning, enrichment and academic intervention for school and community needs. Its initiatives are offered at more than 650 sites in 20 states, serving nearly 55,000 students annually.