Comic book and movie superheroes The Avengers are kid favorites. Follow these tips to throw an Avengers-themed birthday party complete with awesome decorations, food, and favors.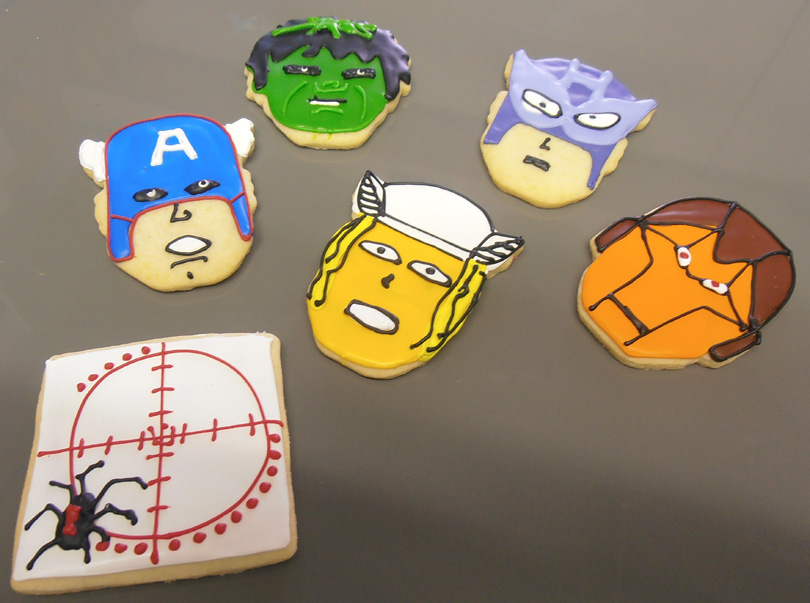 On May 4, Marvel brings together a group of six incredible superheroes to fight the battle mere mortals never could. In honor of the upcoming mega-movie, The Avengers, party expert Ricky Eisen shares some tips on how to throw a celebration worthy of these classic caped crusaders—and take a party from blah to BLAMO!
Invitations
Start your party off right with the perfect invitation. You can make your own postcard invitations with cardboard cut-outs of bright blue painted stars, and include the details about your party in a thin black marker. Decorate the front of each with classic comic book words like POW!, ZAP!, and WAM!
Décor
The Avengers brings together six epic superheroes. Create your own easy decorations with cardboard cutouts of spiders painted black, neon green heads of The Hulk, and classic American flags for Captain America, and throughout the party, use bold colored streamers, which will add some mystery to the room.
Centerpieces
Choose your favorite Avenger and decorate the table around that character. Use lots of primary colors, since comic strips are usually blue, yellow, and red. Print outs of comic book pages covered in contact paper make great placemats. Blanket your tables with these to tie the décor together and include stars, spiders, and Hawkeye cut-outs on wooden sticks around the table with silver confetti.
Music
Keep the music simple but fun. Choose classic scores from superhero movies such as The Hulk, Captain America, and Iron Man and give it a "Gotham" feel.
Menu
Mini snacks such as cut-out tea-sandwiches make great finger food. Look for cookie cutters in shields, stars, and spiders to create these treats. (Get Eisen's tips on how to decorate superhero cookies here.)
For Incredible Hulk-themed beverages, create trays of green ice cubes by freezing water with green food color, and wow guests as their clear citrusy beverages transform color before their very eyes.
Party Favors
As a parting gift, place a few Avenger designed cookies in a cellophane bag and close with a gold twist-tie -- your guests can enjoy the party for days to follow with these treats!
Ricky Eisen is the founder and president of Events and Celebrations by Between the Bread, one of Manhattan's most renowned and prestigious catering companies, and Cookie Panache, an e-commerce website offering hand-decorated cookie gifts.