The majority of an infant's nutritional needs are met with breast milk and formula, but as toddlers transition to the table, the nutrition that they receive is based on the decisions caregivers make when buying and preparing foods. That's why it's so important to understand what a healthy diet looks like for the 1- to 4-year-olds in your life.
   On average, toddlers need about 50 calories per pound of body weight each day to meet growth and energy needs. Your toddler's appetite may fluctuate from day-to-day, but roughly three meals and two snacks each day should be enough to nourish your little one.
   When you are deciding what to feed your toddler, remember that fresh fruits and veggies should be staples. However, the realities of everyday life, such as work, family, bills, errands, etc., can sabotage the good intentions of preparing fresh snacks and meals yourself. Don't let a busy lifestyle dictate hot dogs and soda for your toddler's meals. A nutritious diet doesn't have to be time-consuming; quick, convenient and nutritious options exist, but you need to know how to spot them.
   Here are a few simple tips on how to navigate nutrition labels to successfully guide you down the baby food aisle.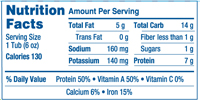 Dare to compare
   Read labels and compare brands. Pay attention to quality, not marketing. Next time you're food shopping, pick up your favorite toddler food product and turn it around. You may be surprised (good or bad) by what you discover.


Understand ingredients
   When you look at the ingredients list, remember that it goes from largest to smallest by weight, i.e., a food contains the largest amount of the first ingredient and the smallest amount of the last ingredient. If you don't know what an ingredient is, be tech-savvy; hop online and look it up.


Know the facts on fats
   The American Academy of Pediatrics recommends that natural fats in your baby's diet not be restricted until he reaches age 2. Fat is a good source of energy for your growing tyke. And, because fat surrounds your baby's budding brain cells, it's important for brain development, too. However, trans fats, or manmade fats, should be avoided due to their long-term connection to bad cholesterol, heart disease and cancer. Keep in mind that if "partially hydrogenated oil" is on the ingredients list, then trans fats are in the food.   


Salt assault
   Babies require much less salt (often referred to as sodium) in their diets than adults do, because their kidneys, which regulate salt and water content in the body, are still developing. According to the National Health Service, children 1-3 years should consume 2000 mg of sodium or less per day. Consuming a lot of sodium is not only unhealthy, it also makes toddlers thirstier and can lead to a greater intake of other unhealthy things, like sugary juices.
   You might be surprised to find out just how much sodium is added to foods, even those made for toddlers. For example, Gerber Graduates Pasta Stars with Chicken and Vegetables Lil' Meal for toddlers has 400 mg of sodium, which is more than a large order of fries at a fast food restaurant, while a Beech-Nut Let's Grow! Chicken & Stars with vegetables Mini Meal has 160 mg of sodium. While both meals may seem similar, the label shows a significant difference.


Limit the refined sugar, mamma
   Sugar can be tricky to spot, because it is disguised by so many names: glucose, fructose, sucrose, maltose, maltodextrin, malt extract, to name a few. However, the most common bully on the sugar block is high fructose corn syrup. When it comes to sugar, keep it limited and natural.
KEITH AYOOB, EdD, RD, FADA, is a practicing pediatric nutritionist and an associate professor of pediatrics at the Albert Einstein College of Medicine in New York. He is the author of The Uncle Sam Diet, based on the 2005 U.S. Dietary Guidelines for Americans.