Once you've seen a Broadway show, maybe bought the souvenir program and cast CD, your involvement ends. But
Legally Blonde: The Musica
l is changing the rules. The show has a special Elle's Lounge VIP Experience that makes going to the theater a deluxe event.
   Elle's Lounge, which is offered at two matinees a month, gives theatergoers a special center orchestra seat literally in the pink; it's overlaid with a pink seat cover.  You also get a tote bag with that souvenir program, plus nail polish, hair gel, a water bottle, and a chit for a drink at intermission.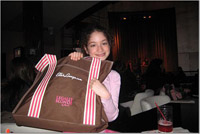 The show, which just celebrated its first anniversary, is the ultimate in female bonding; Elle Woods, a graduating sorority girl, is dumped by her boyfriend.  She talks (actually, sings and dances) her way into Harvard Law to win him back, and despite herself, succeeds as a lawyer.  It's the ultimate fantasy for a certain type of girl (and, maybe, male student); the smart, fun girl, who always dresses in pink, is sweet, incredibly sharp, and has a crackerjack legal mind.
   An "Elle's Lounge" hostess emails you the day before the show to tell you where to get your tickets, and a photographer captures you and your friend/daughter/niece on camera.  The hostess also reminds you to stay in your seat after the show, for the chat with the cast members.  This is an incredible opportunity for most; sometimes an off-Broadway show or children's show offers a meet & greet with the cast, but it is rare for Broadway stars to sit on the stage in their street clothes and chat with theatergoers.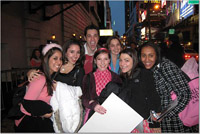 After the chat, you can indulge your own Broadway star dreams at the nearby karaoke restaurant, Spot Light Live.  The hostess escorts the Elle's Lounge group.  Our stage struck group didn't stay together; you can stay in your own mini-group within the larger Elle's Lounge group.
   Elle's Lounge is for kids four and up.  It been most popular with girls 9-15; (and their moms) the afternoon I went, there was a large Sweet 16 party, and a few adults without children. 
Info
Where: Palace Theatre, 1564 Broadway, between 46th and 47th Streets
How much: $200, which includes the show ticket
When: Select matinees at 2pm. Upcoming dates: Saturday, July 12th, Wednesday, July 30th, Saturday, August 9th and Wednesday, August 20th
For tickets:
www.Elleslounge.com
.  For regular tickets,
www.LegallyBlondeTheMusical.com
.