Inside Broadway celebrated its 30th anniversary with an interactive "Creating the Magic" workshop that introduced the magic of "Billy Elliot the Musical" to 1,000 NYC public school students.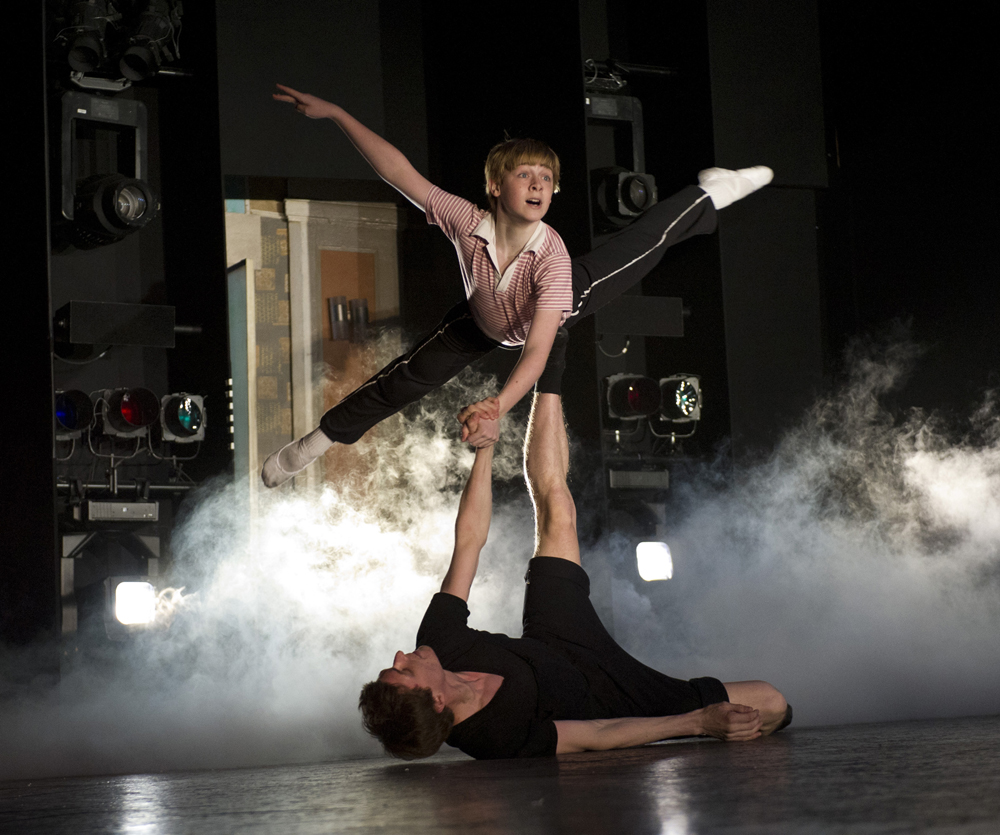 Joseph Harrington as "Billy" (top) and Nicholas Sipes as "Older Billy" perform the "Dream Ballet" scene from the musical.
At about 10am today, a crowd began to form outside Times Square's Imperial Theatre. They were a few hours too early for the scheduled 7:30pm show (and averaged a few decades younger than Broadway's normal theatergoing throng), but the show they were lining up to see was no ordinary public performance. These 1,000 NYC public school students were preparing to dive behind the scenes of one of Broadway's most award-winning shows, Billy Elliot The Musical.
This special show and interactive workshop, called "Creating the Magic," kicked off the 30th season for Inside Broadway, a nonprofit organization dedicated to bringing live theater to NYC kids. The students who filled the seats were just a few of the more than 30,000 local children who will participate in Inside Broadway's after-school arts education programs in 2012. The organization has hosted about 15 similar workshops throughout the years, said executive director Michael Presser, each with the goal to instill a lifelong love of theater in these young kids.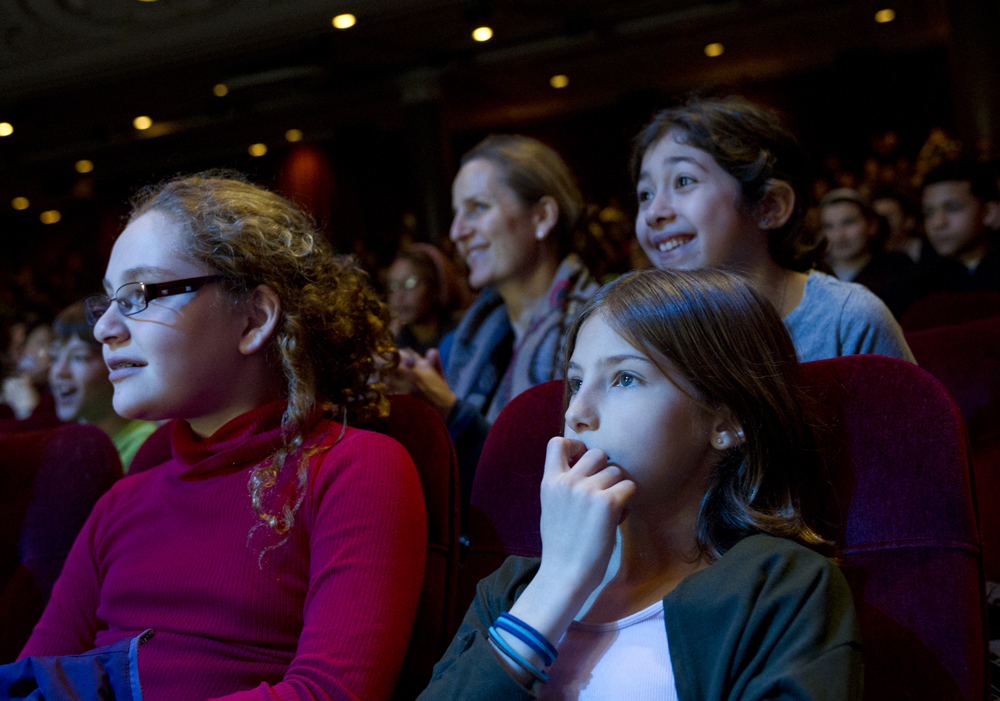 Just before 11am, the lights dimmed in the theater (to squeals and ooos from the younger students, for some of whom this was a first Broadway experience) and the audience was introduced to cast members including 12-year-olds Tade Biesinger and Joseph Harrington, two of the four actors who play "Billy" in the musical, and several crew members who control the show's sets, props, lighting, and sound. Cast members performed four numbers from the show, including the stunning "Dream Ballet" scene, where "Billy" (played by Harrington) literally flies through the air, suspended by a cable wire. (Harrington revealed afterward that he was "really scared" of flying at first, and it made his mom really nervous, but after tons of rehearsals it's become his favorite part of the show.) Crew members explained what their jobs entailed and demonstrated how each piece of the show worked, from the multi-floor stage that changed before the children's eyes to the microphones hidden in the cast's hair.
After the presentation, several students were invited to ask questions -- they wanted to know how it felt to play Billy Elliot ("Awesome!" said Harrington); what cast members do when they forget their lines ("Wing it!" said Biesinger); and how the crew members chose their positions ("Find what you're best at and what makes you happy," said Peter Donovan, one of the show's electricians).
The workshop ended with cast, crew, and audience members signing "Happy Birthday" to Inside Broadway, followed by a shower of streamers.
Of the 29 third- through fifth-graders from Manhattan's PS 77 Lower Lab School who attended, most of the students said their favorite part of the show was the "Dream Ballet" scene. Ten-year-old Amanda Fuchs, who loves to act and sing, said it would be a dream come true to star on Broadway. She and her friend Ruby plan to go to a performing arts high school in the city when they're older. "We want to be in a show together one day," Ruby explained. "But we're taking it one step at a time."