Thinking of becoming a hockey parent? NY Islander Doug Weight and other experts weigh in on the pros and cons of hitting the rink with your child.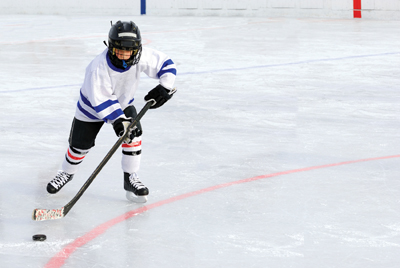 Many professional athletes recount stories of how they fell in love with their favorite sports - they loved the speed of the game, the rush of the adrenaline, and the feeling that, with effort, they could excel. In many cases, leagues existed that allowed the growing athletes to hone their skills, or they played on school teams they could join with friends.
Although many sports appeal to children, hockey often gets a bad rap. The game can be complicated. The National Hockey League still has more Canadian players than American or European athletes, despite expansions in the 1990s and 2000 that allowed more players from various countries to play.
The theories for hockey's inability to catch on are limitless. Some blame last decade's pro lockout for driving interest away from the sport. Warm-weather states face the challenge of fewer ice rinks. And at the top of the list for many parents: the perceived risk of injury. It can't be denied, as well, that both parents and children who choose to participate must make numerous sacrifices to see success.
Yet, for those who enjoy playing hockey, the benefits are worth it.
Teamwork Counts
"Hockey is the most team-oriented of all team sports," says Sandra Carreon-John, the mother of Christopher John, a 6-year-old hockey player who lives on the city's Upper East Side. "You have to trust that your teammate will pass you the puck or that your goalie will prevent a goal from going in."
Amy Greenberg, a Rockland County mother, agrees that hockey can help build relationships. She says her entire family has gotten closer thanks to her son Shaan's travel routine. Tournaments throughout the tri-state area force hockey players and their families to rely on each other as well. If a child's parents can't attend the game, others fill them in via text message. Parents often give their children's teammates rides to and from games, too.
"Hockey has helped our son develop discipline, athleticism, and a positive attitude," Greenberg says. "It's part of who he is."
Going the Distance
The discipline the athletes need to succeed is obvious. Many times, young athletes and their parents have to research area skating rinks and programs to make sure they meet the athlete's needs. John started skating at Central Park's Lasker Rink; he later skated at the Westchester Skating Academy in Elmsford, NY, and City Ice Pavilion in Queens before settling on Ice House in New Jersey, which is where he skates today.
Children not only travel far distances, but because of the limited number of rinks available, practices can start as early as 6am. Tournaments can involve weekend-long hotel stays.
As children age, these commitments take away from time with friends and other sports, said New York Islander forward Doug Weight, who remembers being at the rink from the time school got out until late in the evening when he was growing up in Detroit because his father coached multiple hockey teams.
"You get alienated a little bit because you're missing a little bit of social time," Weight says. "Kids would be hanging out on the weekends when I would be going to a tournament that no one else in my school was involved in."
Dollars and Sense
In addition to traveling and time commitments, hockey is an expensive sport. Carreon-John estimates that parents spend about $3,000 per season, which doesn't include hockey gear like $200 skates, which have to be replaced as the child's feet grow, and $100 hockey sticks. Shoulder pads, helmets, and gloves cost more. Goalies, Carreon-John says, can easily have gear that costs double or triple the amount of money compared to their teammates' gear.
That gear, however, keeps children injury-free, which is essential for a collision sport that caused the third most emergency room visits in the United States of any sport, according to Dr. Joanna Dolgoff, a Midtown East pediatrician. The most common injuries include bruises, muscle pulls, ligament tears, and cuts; more serious injuries such as broken teeth, concussions, broken bones, dislocations, and spinal cord injuries are also possible.
"As someone who has worked with pro hockey players since 1993, I know how difficult hockey is," says Carreon-John, who was a former director of player publicity at the NHL and a vice president of communications for the New York Rangers. "Still, I think it is the best team sport for young kids to hone their athletic skills and coordination."
Unlike some sports that feature a lot of downtime, hockey gives children a great cardiovascular workout. It tones every major muscle group and improves mental strength and focus. Children also increase hand-eye coordination through stick handling and shooting. They also learn balancing skills, improved agility, flexibility, and reflex times from skating.
Weight, the Islander forward, says that throughout his childhood, the sacrifices paid off and the risk of injury never phased him.
"You sacrifice quite a bit, but it was all worth it," he says. "Really, to this day, my greatest friends are from the game of hockey."