Could your baby's gurgling signal the beginning of a great acting career? Would your toddler like to crawl down the catwalk? We talked with Angela Lomangino, founder of TV Tots, a new television and film performance workshop designed specifically for infants and toddlers, up to 5 years old. The program is divided into three parts, ending with a professional photo shoot and meeting with an agent. Lomangino has appeared in numerous commercials, TV and film spots herself; here she explains why ugly children don't exist and annoying parents do.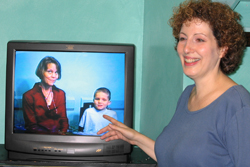 Angela Lomangino instructs Sherrie Hulbert and her son, Jason
Photo: Robert Gengerke


What's the biggest mistake parents make when starting their child in this business?
Getting in the way of letting the child be him or herself. Trying to make the child act or be something other than they are. Children are naturally wonderful if you just let them be. If the parent can relax, then the child will be relaxed.

How do you decide which kids can be models. Aren't all babies adorable?
That's the point, you can't decide. Each child is unique, each child is wonderful.

But in the entertainment business, it's not that way. They don't look at how wonderful your child is, they look at their appearance.
Well, you could have the most beautiful baby in the world, and that baby laughs and giggles and enjoys you so much, but the minute you stick the child in front of a camera, they scream. It doesn't matter how perfect your child is, it's: Does your child have the temperament for the business? Would your child enjoy it? Would you enjoy doing it with your child? Because it's really up to the parent. It's a lot of work for the parent.

Do you discuss with them the rejection they might face?
Absolutely. You cannot take anything personally. It's, literally, just a business. You could walk in with the most perfect child, and it turns out that your child has curly hair when they wanted someone with straight hair.

Do you think the very youngest age group is easier to handle?
Sure, because they don't take anything personally. They don't really get that they're being accepted or rejected. They are what they are at that moment. They have no expectations.

How much can a child make per photo or per commercial?
That varies greatly. Extra work in a movie, for example, can be $75. A print job could pay anywhere from $500 to $5,000, depending on usage.

How many kids usually succeed?
That, again, varies greatly. Ironically, it's not up to the child; it's up to the parent how successful the child will be. If the parent is good at the business part, then the child will have more exposure and more chances for success. But you need to protect your child and set your priorities. What is important to you? You want to try and avoid scammers. Try to make sure that it's a safe working environment if a child does book a job.

What is the worst kind of stage parent?
Some parents don't realize that agents are very busy people. They don't necessary want to know the latest adorable thing your child did that morning.

Do you wish you had started as a child?
If I could have followed the advice that I'm now giving, I probably would have had a better time of it. When you leave an audition, you should just forget it. Just let it go. You can't obsess. And it's easier to get an agent when you're younger because agents can help build your career. Adults are harder to mold. An adult will say, 'Nope, I want this this and this.'

How much do you charge for your courses?
Courses 1 and 2 are each $225, $400 if bought as a package. Fast-track for adults is $75.

What are additional costs? Like photos and clothes?
It's a range. But it's not necessary to spend a lot of money when you're dealing with children, and you shouldn't spend a lot of money because children change constantly.

And you have a child in the business?
Yes, I have a son. He's 3.

And has he had some success?
He has an agent. That to me was success. He's had auditions. I haven't pushed him a lot because I've been awfully busy.

Do you plan to?
When I think he's ready. I'm a case in point. I've just been too busy starting my own business.

For more information, call (212) 777-8080 or visit www.tvtots.com; or contact Weist-Barron at (212) 840-7025.