After the hub and bub of the holidays, January is a great time to scoop up excellent theater tickets at super excellent prices. It's also prime time to visit the new and classic plays and musicals on your post-holiday wish list. Here are a couple of insider tips:
• Whenever possible, make your theater reservations as far in advance as possible.
• Midweek (Tuesday, Wednesday and Thursday) is usually the best time to score last minute tickets.
• To maximize the fun of attending a Broadway show, don't forget to head to the stage door after the performance to have your program or autograph book signed by your favorite cast members. (Trust me, it's always worth the wait.)
And here's a taste of what's awaiting your family this month.
On Broadway
 MARY POPPINS, THE LION KING andTHE LITTLE MERMAID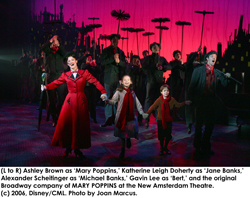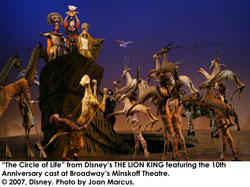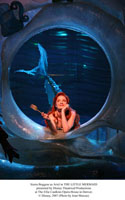 Even if you missed Disney's "Kids Go Free! On Broadway" deal last month, you can always check Disney's comprehensive website,
www.disney.go.com/theater
, for updates on deals, cast changes, downloads and other fun stuff.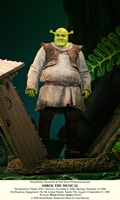 SHREK THE MUSICAL
 If Shrek, the curmudgeonly ogre with attitude to spare, was a big green hit with film audiences, imagine his impact live on stage. No wonder this hot new musical based on the first Shrek movie took Broadway by storm when it opened in December, and continues to spread fairytale glee from Far-Far-Away all along the Great White Way! Broadway Theater, 1681 Broadway, 212-239-6200; www.shrekthemusical.com.

SOUL OF SHAOLIN (January 13-31)
If you've got a Jet Li fan in your family, this is one limited run show you won't want to let slip by. And while there is a storyline involving a young boy separated from his mother by war, this production is really a dazzling Chinese martial arts spectacular showcasing Shaolin Kung Fu, the martial arts discipline associated with the legendary monks of the Shaolin temple, which was featured in the film Fearless, starring Mr. Li. Marquis Theater, 1535 Broadway at 45th St., 212-307-4100.
Off and Off-Off Broadway
CRANKED (January 9-25)
An edgy show with a rap aesthetic, this import from Vancouver's Green Thumb Theater presents older kids with a compelling cautionary tale set to a hip-hop beat. The story, starring Kyle Cameron, follows young Stan's descent into crystal meth addiction. Notably, this award-winning production, with an intensity theatergoers won't soon forget, is set to pulsing rhythms from a live DJ. The New Victory Theater, 209 W. 42nd St., 646-223-3010;www.NewVictory.org. $12.50-$35, with even greater savings for members.
DEAR EDWINA (Through January 25)
Edwina can't keep her opinions to herself, which is good news for anyone visiting this deliciously quirky new musical about a girl whose special talent is giving advice. And here's some cool news: children attending Dear Edwina can now place their own advice-seeking letters in a special box in the lobby. Each week, one letter will be selected and Edwina's reply will be posted on the show's website. Bonus: winning letter-writers will be invited to return to the show to read their letters onstage, and receive Edwina's personal response! DR2 Theater, 103 E. 15th St., 212-239-6200; www.DearEdwina.com.
FUERZA BRUTA 
For those 12 and over who are ready to move from playing videogames to being dropped into the middle of one, Fuerza Bruta (f'where-zah-broo-tah) is a theatrical event guaranteed to stir the adrenaline of even the most jaded 21st-century kid. Set in an open 360-degree playing area, this surreal, non-stop production jettisons spectators into a universe of music, sounds, lights, soaring bodies and water play (imagine a giant transparent overhead Slip-n-Slide that inches down and stops just above the heads of dumbstruck spectators!). FYI: Fuerza Bruta's youthful fan base has already given the show a thumbs-up for both Bar and Bat Mitzvahs, as well as Sweet 16s. Daryl Roth Theater, 20 Union Square East at 15th St., 212-239-6200; www.fuerzabruta.net.
PINKALICIOUS, THE MUSICAL
The ultimate little girl fantasy, this adorable Vital Theater musical, about a pink cupcake eater whose passion for the treat actually turns her pink, has become one of Off-Off-Broadway's most popular shows — so much so that it recently changed theaters to accommodate the demand. Suffice it to say, kids (okay, girls) are lining up for regular performances and signing up for customized birthday bashes. Theaters at 45 Bleecker Street, 45 Bleecker St., 212-239-6200; www.vitaltheater.org/pinkNWS.php.