Not far behind the start of school is the beginning of the soccer season. For many parents and kids, this means several games each weekend, and for those on travel teams, multiple mid-week practices. We spoke to a couple of local parents about playing recreational ("rec") soccer and its more competitive cousin, travel.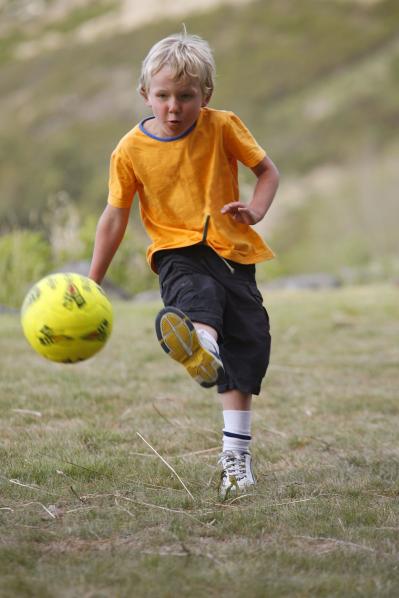 Ed Lee has three children and is a veteran of both the rec and travel worlds. "Rec should be the gold standard," he says. "That's where it starts." In his kids' recreational soccer league, "the ideals promoted are participation, fun, and learning the sport," according to Lee, who adds that the idea of winning is introduced, but is a distant number four.

Lee emphasizes that 'participatory' means: "Anyone who wants to play can play." This follows the philosophy of the American Youth Soccer Organization (AYSO).

Sandy Doherty, whose 12-year-old daughter, Kate, is in her fourth year of travel soccer, says, "There is certain snobbery about travel soccer in certain areas." Kate was asked to try out for a travel team when she was in third grade, but, says Doherty, "We said no. She didn't need that at age 8." When Kate was asked again the next year, Doherty reconsidered. Her priority for Kate is that "she really enjoys it."

Doherty urges parents to be aware of the travel team coach's agenda. Kate's first coach, she says, was "very into teaching"; her second coach was "very into winning"; and her current coach is a mixture of the two.

Ed Lee, whose only experience playing soccer was at sleep-away camp, coached rec because, he explains, "No one else raised his hand. I had to get a rule book — I didn't even know what a corner kick was."

Lee is now a proponent of the developmental system that starts in kindergarten with age appropriate drills and small-sided games. "We start with drills," he says. "Everyone has a ball at his feet; there is no lining up. One game involves a dragon trying to steal balls. The kids have to dribble away, and before you know it, they are learning how to change direction, use their left foot, and pass." They build from 3 versus 3 games to 4 versus 4; by second grade, kids are playing 7 versus 7.

While Kate Doherty made the travel team on her first try, Ed Lee's son, Ben, then age 8, did not. "He couldn't grasp why," recalls Lee. "He said, 'I tried my hardest — why can't I play?'" He soon gave up the game. His sister, Zoe, however, did not make the travel team her first time, but persevered and ended up playing travel soccer for three years. Ed Lee says it was a positive experience for her: "She made friends outside her elementary school and improved her game."

Lee and Doherty agree that better athletes should have a higher level of competition, but Lee feels that kids on travel teams should also be required to play rec soccer. "That's how weaker kids push themselves," he believes. "They emulate the stronger kids. And being a stronger player teaches leadership qualities." Both advise that kids under 10 are too young to be playing competitively. But as Doherty notes, "Soccer is wildly popular. There is certainly plenty of room for both types of programs."

* Names changed throughout

For more info:
—AYSO: search for local affiliates by zip code: www.soccer.org

—Manhattan Soccer Club has travel teams starting at U9 (under nine)
www.manhattansc.org

—Chelsea Piers has developmental soccer programs,
www.chelseapiers.com


—Eastern New York Youth Soccer Association has a premier travel league in Queens, and an Olympic development program: www.enysoccer.com/

—SABA (Soccer At Its Best Academy) trains girls travel teams in the Long Island Junior Soccer League www.sabaskills.com

—Brooklyn Patriots Soccer Club has a developmental program and travel teams: http://eteamz.active.com/bpsc/

—Westchester Youth Soccer League has fall travel soccer teams around the county: (914) 235-5110; www.wyslsoccer.org

—Larchmont Junior Soccer League has travel and rec teams: http://ljsl.org/index.html

—Mamaroneck Junior Soccer League travel and rec teams: www.mjsl.org