NEW YORK, May 2, 2011 /PRNewswire/ -- On April 29, more than two billion people watched as Kate Middleton married her love, Prince William, and became royalty. Although only 1900 people were invited to attend the wedding, people around the world watched with rapture and were there in spirit. Although you may not have been an invited guest, you can now commemorate the wedding of the century with your very own Kate Middleton Bridal Doll.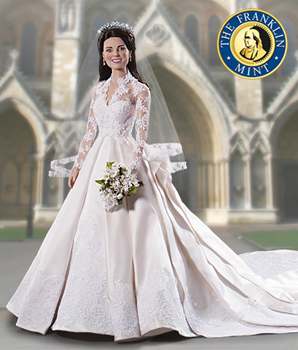 The Kate Middleton Bridal Doll, designed by the world-renowned Franklin Mint, is a beautiful and authentic replica of the new Princess. The Franklin Mint's Royal Bridal Doll features all the fine details one would expect from The Franklin Mint, including a miniature replica of the famous Scroll and Diamond Tiara George VI gave the Queen Mother just before ascending to the throne.
"Millions of mothers, daughters, grandmothers and granddaughters woke up in the wee hours of the morning to share the joy of this fairy tale wedding. There is no better way to hold onto that beautiful memory than with this unique heirloom, a symbol that dreams really can come true. The Franklin Mint is known for its unique and enduring commemorative gifts, and the Kate Middleton dolls are truly the best work we have done in our fifty year history," said Gwynne Gorr, Chief Marketing Officer of The Franklin Mint.
This remarkable replica of the Princess comes with a Certificate of Authenticity and a display stand. It retails for $295.00 USD. If you purchase both the Kate Middleton Engagement Doll and the Kate Middleton Bridal Doll together, you will enjoy free shipping.
The Franklin Mint is currently taking orders for the doll at www.franklinmint.com or via phone at 1-800-TheMint. Orders can also be placed through mail-in requests to The Franklin Mint, 801 Springdale Drive, Franklin Center, PA 19341.