Time with children is the first activity parents abandon when holiday demands get hectic, points out Cheryl Wright, director of The Child And Family Development Institute at the University of Utah. Parents may become fixated on buying the perfect toy, but mom or dad's undivided attention is the most prized gift a parent can give a child, "Time spent together builds memories children keep," says Wright. Freely-given attention sends the message from parent to child that, "You are a priority in my life."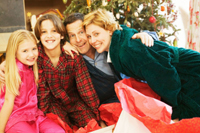 Simplifying expectations and demands can help parents keep quality time a priority during the hectic-ness of the holidays. "Do half of what you anticipate you are going to do. Holiday is a time to drop all the to-do lists," says Wright. "Take time to play peekaboo games with your baby and to read simple picture books."

   If you find your days slipping away, write priority time with your child into your planner, Wright suggests. "I hate to say it has to be scheduled. But in the holiday frenzy, parents can have good intentions of spending time with the kids, but never get around to it."  
   Children also behave better when they receive their parents' attention. "A parent who keeps saying, 'just a minute,' will find his child whining for attention," says Wright, "And when the parent becomes stressed, everybody pays. Children pick up on the negative stressful emotion that is the opposite of the peaceful atmosphere you hope to create. Don't multitask — when you're spending time with your child, relax and enjoy."
Taking Care of Yourself
   Sherri Caldwell, founder of rebelhousewife.com and author of
Rebel Housewife Rules: Reality Check
, suggests that with love and no-cost, no-stress time together, children will carry forward many happy memories to treasure. Give yourself and the kids a break and turn on the TV, says Caldwell. She suggests moms pop a bag of popcorn and snuggle up with the kids for quality holiday time. "It's the only time of year TV stations play the wholesome family classics such as Frosty the Snowman and The Grinch almost 24 hours daily. If you don't have them on video or DVD, get them," suggests Caldwell.
   Shop online to save time.
   Lastly, but probably most importantly … while you are taking care of everybody and everything else, take a few minutes every day to take care of you, too. "Whatever it takes — a few minutes alone, a manicure, a walk, a haircut, exercise with a friend, a bubble bath, a few minutes with a good book," says Caldwell. "A few minutes to yourself every day will make all the difference for everyone."
Scaling Back


  Where can you cut back on demands and maximize your available time with your children? Jean Coppock Staeheli and Jo Robinson, authors of
Unplug The Christmas Machine
, offer the following suggestions:
—Take extra time off work
—Simplify holiday preparations
—Entertain less
—Attend fewer parties that are just for adults
—Be more relaxed about how the house looks
—Cut back on outside commitments
—Make fewer gifts
—Travel less
—See fewer friends and relatives
CAROLYN CAMPBELL is the author of 600 articles and three books, most recently, "Reunited: True Stories Of Long Lost Siblings Who Find Each Other Again".