Acclaimed actor, writer, director, and Manhattan dad Kevin Del Aguila (most recently Smee in the Tony-winning "Peter and the Starcatcher" and writer and director of "The Velveteen Rabbit" at DR2 Theatre) tells us why theater is so important for kids.
Growing up, Broadway actor Kevin Del Aguila says he credits his mom with instilling his love of theater. "When I was little, that influenced me more than anything—just watching and learning and being exposed to all those shows," says Del Aguila, a native of Southern California who came straight to Manhattan after college to chase his Broadway dreams, which were finally realized when he was cast as Smee in the Tony-winning musical Peter and the Starcatcher. Now a parent himself, to 3-year-old Felix, and the writer behind Theaterworks USA's The Velveteen Rabbit, which premieres this month at the DR2 Theatre in Manhattan, Del Aguila says he recognizes the importance of the performing arts in a child's life.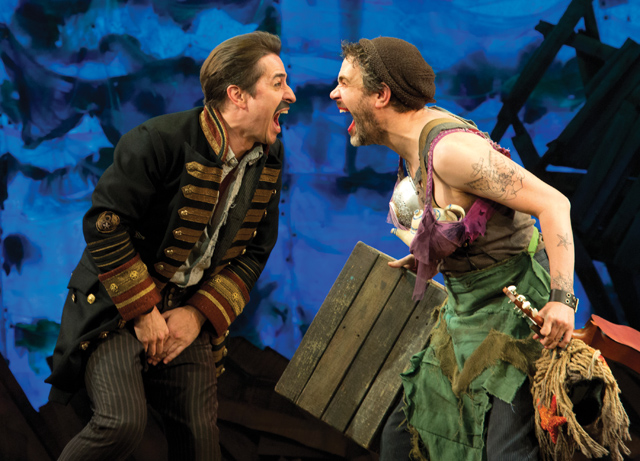 How do you think theater benefits kids?
Being in the theater has given me a creative home, a place to grow, learn, hone my craft, and—hopefully—entertain and inspire others. I think it does the same for children. When they see theater, they literally see grown-ups 'playing' in front of them. And when it's done well, I think theater can expand a child's creative mind and sense of imagination.
Will you encourage your son to follow in your footsteps?
We're trying to push him more toward doctor or stockbroker, something more stable. I think all of our [attempts] are in vain, though—he seems to be quite the performer. But it's a tough path. Of course there's the side of me that wants him to be happy and says "Follow your dream," but I hope it has some stability.
How do you expose Felix to the performing arts?
Felix is so interested in music. There's a great class on the Upper West Side—I think it's called "Early Ear"—where [they] give the children these different instruments, like the tuba and a mini cello, and they have them playing songs with notes and stuff. I was really impressed. I thought, "I can't believe there's a nook like this." He was having an absolute blast, laughing between puffs on the tuba.
Even outside schools, there are so many opportunities. In New York, we're lucky to have Broadway, and I know there are camps that are theater-focused that will take them to shows. There's also a group called the Story Pirates that takes children's stories and makes little plays out of them. That's an amazing thing to see happen, to have children experience their words and stories come to life in front of them, that they can be told through theater. The groups are out there—if you look, you'll find them.
Read a longer profile of Kevin Del Aguila, NYC actor and dad.
Read our call to action to keep arts education in our schools.