Help bring your child's favorite books to life by taking them to kid lit landmarks all over New York City. On your trip, you'll find Brooklyn's Grand Army Plaza from Knuffle Bunny, party in the Plaza Hotel like Eloise, and hang out in the Upper East Side like Lyle, Lyle Crocodile, and more.
Getting kids to read, especially during the summer when outdoor activities, camps, and video games demand their attention, can be difficult -- but summer reading can't be neglected.
Research from the University of Tennessee, Knoxville, has shown that when children are provided with 10 to 20 self-selected children's books at the end of the regular school year to take home and read during the summer months, as many as 50 percent not only maintain their skills but actually make reading gains.
For parents who struggle to engage their kids in reading, several New York librarians offer suggestions.
Brooklyn Public Library Youth Wing librarian Megan Kilgallen recommends sharing stories with your children to bring books to life. Throughout our area, there are wonderful free programs for children. Children's librarians can recommend appropriate books for your child's age, interests, and development. Older children can also visit a literary landmark, like the popular New York-area places featured in children's books.

What follows is an array of books that take place in our iconic, beloved NYC; age ranges given are for the publisher's recommended reading level, but remember that it's just as valuable to read books to your kids, and every child progresses at a different pace, so use your judgment -- and most of all, get out and have some fun!
Books As Tour Guide
"The moment of recognition from a beloved children's book can be magical for a child," says Kilgallen, who recommends completing one of the 20 walking tours of New York City based on Leonard S. Marcus's Storied City: A Children's Book Walking-Tour Guide to New York City (grades 4 and up). The book contains illustrated maps, photographs, and other art featuring more than one hundred places that have influenced hundreds of the best books about New York.

Young readers may enjoy visiting Brooklyn's Grand Army Plaza, the backdrop of Knuffle Bunny Too: A Case of Mistaken Identity by Mo Willems (ages 3-6). In this picture book, Trixie takes Knuffle Bunny, who was introduced in Knuffle Bunny: A Cautionary Tale, to school. The stuffed animal is confiscated and inadvertently switched with another child's toy. By the time the children realize the mistake, they have no other choice but to get their parents involved. If your child has yet to fall in love with the Knuffle Bunny books, try reading the first book in the series while visiting Prospect Park. Your child will recognize the places in the book immediately.

Attending Coney Island's Mermaid Parade will keep fans of Mermaids on Parade (ages 4-8) entertained (it's already occurred this summer, but it's held every June as an homage to the area's now-forgotten Mardi Gras, which lasted from 1903 to 1954). Parents who are taking first-time parade attendees to Coney Island may choose to peruse Melanie Hope Greenberg's picture book beforehand. Then, on the day of the parade, children will recognize the familiar F train stops, Astroland, Coney Island's beaches, and the beautiful parading sea creatures.

If you're hosting out-of-town guests who would like to visit the Empire State Building, start the adventure by reading Sector 7 (ages 4-8) by David Wiesner about a child's school trip to the landmark during which a boy makes friends with a mischievous cloud. You'll be able to incorporate a few weather-related science lessons, as well.

If your daughter has ever dreamed of living in the "room on the tippy-top floor" like 6-year-old Eloise from the Eloise (ages 4-8) series written by Kay Thompson, she may enjoy visiting The Plaza Hotel. There, little girls can dress up and model their favorite looks. After snacking in the Tea Room and lounging in the Library Rooms, guests may also watch their favorite movie clips or enjoy story time.
While navigating Times Square at night, pause for a few minutes among the rumbling subway trains, howling brakes, screaming car horns, and babbling voices to listen for Chester Cricket from The Cricket in Times Square by George Selden (ages 8-10). Feeling a little overwhelmed? Don't worry. Chester, who hailed from rural Connecticut, did too.

Make your trip to the Central Park Zoo more memorable by looking for Lyle the Crocodile from Bernard Waber's classic, Lyle, Lyle Crocodile (ages 5-8). If you can't find Lyle in captivity, venture over to East 88th Street to try to identify the house Lyle lived in with the Primms before Mr. Grumps had him shuttled off to the zoo.

Adventurous brother-sister teams may enjoy visiting the Metropolitan Museum of Art after reading From the Mixed-Up Files of Mrs. Basil E. Frankweiler (ages 9-12) by E.L. Konigsburg, a story about a sibling duo that runs away to the museum when 11-year-old Claudia is feeling unappreciated. Once you leave the museum, try tracking the flight of the yellow balloon that goes missing from the Metropolitan Museum in Jacqueline Preiess Weitzman's picture book You Can't Take a Balloon into the Metropolitan Museum (ages 4-8). By completing both activities, children of all ages will be able to get involved.

"Going out on excursions after reading reinforces moments in a story -- not just setting, but characters, too," Sharon Elswit, the head librarian at the Claremont Preparatory School says. "The shared experience then becomes part of your history together."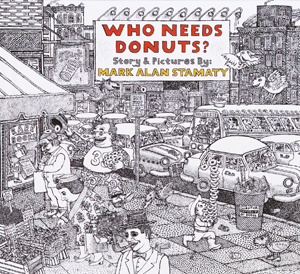 Who Needs Donuts? by Mark Alan Stamaty (ages 5-10), in which the main character Sam leaves his house in the suburbs in search of sweets in the city, is included on Mommy Shorts' blog post of her top 10 children's book characters based in NYC; see her full list, plus a blogful of witty parenting insights, at www.mommyshorts.com.
Keep the Fun Going!
Download a reading guide to "The Cricket in Times Square"
Find out why it's fun to act like a tourist in NYC
And check out even more books that feature this great city, including the 10 best children's books about NYC history and the Baby Meets City mom bloggers' list of the best NYC-based books for kids