As a child, Bill Zimmerman loved Sundays more than any other day of the week. Sundays brought the Sunday newspaper, and with that the Sunday comics, where Zimmerman could get lost in a colorful world of characters and make believe. Now a prize-winning newspaper editor and author of 18 books, Zimmerman has created a space for others to experience this magic, while exploring their own creativity.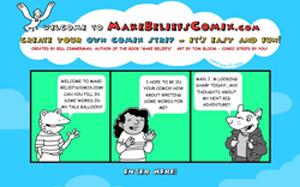 MakeBeliefsComix.com is part of a series of work by Zimmerman that focuses on helping children forget the everyday troubles of growing up and escape to a land of make believe-one they can create and have control over. The Web site, featuring art by Tom Bloom, provides users will all of the elements needed to construct their own comic strip, where they can channel their innermost feelings-their worries, triumphs, fears, or joys-and express them in a short story complete with their own dialogue and cast of characters.
The purpose of the site, according to Zimmerman's address in the "About Us" section, is two-fold: to encourage creativity and self-expression through writing and designing, and to provide an educational tool that aids in the development of reading, writing, and language skills, as well as computer literacy. In this respect, the site's activities can be beneficial for children and adults alike. "After all," Zimmerman writes, "there is no greater force in life than the power of the imagination to free us from our immediate problems and to spur our energies to find solutions to our befuddlements."
Users can choose from a cast of 15 distinctive characters, from human to amphibian, each with four emotional
expressions-happy, sad, angry, and worried. Character interactions are possible through thought and talk balloons, where users can write in carefully constructed dialogue, or just anything that comes to mind.
For those struggling to get started, the "Story Ideas" page offers fun and inspiring prompts, such as "A Day at School," "Dealing with Bullies," and "Making Wishes Come True." Each provides a basic thematic outline that users can build on to tell their own unique story.
Since it was launched in late 2006, MakeBeliefsComix has reached users in more than 175 countries. The site allows users to create comics in English, Spanish, French, German, Italian, Latin, and Portuguese, which has made it a helpful tool for language educators. Due to its educational capacity and interactive ingenuity, Google and the United Nations Educational, Scientific and Cultural Organization (UNESCO) listed MakeBeliefsComix among "the world's most innovative web sites in fostering literacy and reading."
Similar works by Bill Zimmerman include the Web site Bill'z Treasure Chest (www.billztreasurechest.com) and his books for children, including Doodles and Daydreams: Your Passport for Becoming an Escape Artist (2007) and A Book of Questions: A Playful Journal to Keep Thoughts and Feelings (1997). Both are available on Amazon.com.