Yeah, sometimes it's messy as all get-out. But cooking with your kids is always fun - and rife with teaching opportunities.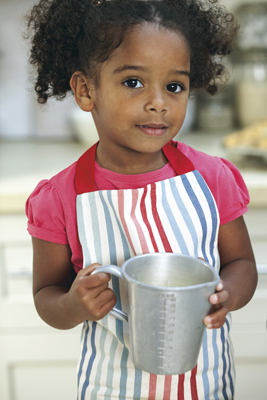 Get out the wooden spoons and mini-aprons and gather the whole gang in the kitchen for some real cooking! Why? Besides the fact that it's fun quality time with the kids, "it's a great bonding experience because you're able to create something together," says Theresa DiMasi, editor-in-chief of WeightWatchers.com. According to DeMasi, kids feel empowered and proud when they've had a hand in preparing meals - plus, they're mindful of what they're eating, where their food comes from, and they're more likely to request the same dish again.
Cooking with your kids is also the perfect opportunity to teach them about healthy eating. Working together to prepare meals provides a great opportunity to have conversations about the benefits and nutritional values of each food. For example, salmon is high in omega-3 fatty acids, which will make you smart. "If kids think of food as something that's good for them, then you're starting to instill the thought that food is not a substitute for another feeling, but fuel for their bodies," says DiMasi, who adds that parents also need to reinforce healthy eating by eating nutritionally themselves.
Make it Together!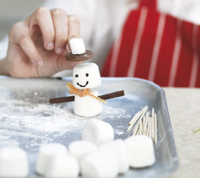 Small Bites
Getting your kids cooking on a regular basis doesn't have to be a major undertaking if you find everyday opportunities. At the local farm, farmer's market, or grocery store, peruse the different types of fruits and vegetables and ask your child to pick out something she hasn't seen before.
"Kids are naturally curious and adventurous, so make a game out of it," recommends DiMasi. Or pick a variety of greens like Swiss chard, kale, and mustard greens to cook, and let your child discover the different tastes and textures. "The more you make it into a game and an adventure, the more you're encouraging them to be open to new foods."
Weekend Prep
You can also create mini projects together that allow you to get a lot of the prep work and organization done ahead of time. On the weekends, go shopping together for all the ingredients and, depending on their age, let your kids chop vegetables for a large vat of soup that your family can eat throughout the week (or freeze a portion for another time). If your kids are younger, simply asking them to take out and organize all of the ingredients is a reliable project they can do every time you cook. Do-it-yourself meals like fajitas or pizza are great ways for kids to plan and make the meal themselves. Combine the meal with a play date and it's an activity your kids and their friends can enjoy together.
Make it Together!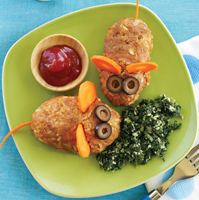 Fitting It In
Finding time in your busy schedule to cook with your kids can be tough, but combining prepared foods with fresh items will it make it faster and easier. If you don't have time to chop veggies, buy fresh, pre-cut varieties. Or buy a fully-cooked rotisserie chicken and make the fresh vegetables. Voilá, dinner is served! In this case, "you're doing more assembling than actual cooking," says DiMasi, but it's still worthwhile.
You can also combine your prep time with another activity, such as shelling peas while you're watching TV together. Making the same dishes frequently or giving your kids a specific task like mixing or pouring can also save time. "The more you do it with your children, the less directing you have to do and the more proficient they become."
Sweets for Your Sweets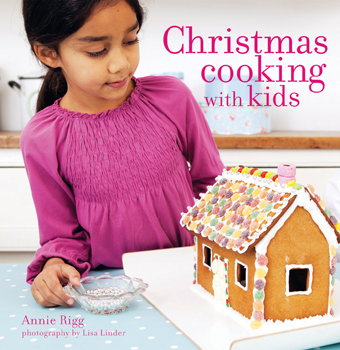 Baking, especially around the holidays, can be another great way to get kids in the kitchen. Kids learn discipline, measurements, and science as they watch a simple mixture transform into an entirely new dish. "Almost all children love to eat cakes and cookies, so it makes sense that they'll enjoy baking them too," says Annie Rigg, author of Christmas Cooking With Kids (Ryland, Peters, and Small).
"Baking for the holiday season is something that is usually steeped in tradition for most families," says Rigg, who says that her family takes turns stirring the fruit cake mixture as they make their wishes for the new year. Teaching your child how to make grandma's famous gingerbread cookies, for instance, creates wonderful memories and gets your kids excited about baking all year long.
Be warned, though: When little hands get hold of flour and sugar, things can get messy fast! Rigg fondly recalls her mother walking in on her making peppermint creams (click for recipe) one day as a child. "She returned home one day when I was little to discover that my brother and I had taken over the kitchen and turned it into a very sticky snow scene!" Rigg emphasizes that kids need a lot of space, so clear your countertops - and be prepared for a big clean-up.