Related: physical, sports, school, kids, physician, nurse,




As the fall approaches, so does the excitement surrounding organized school sports. Kids of all shapes, sizes, and skills will be hitting the field this September and inevitably a portion of them will be stumbling back off with the help of a trainer or concerned teammates. Unfortunately, injuries are a part of playing sports, whether they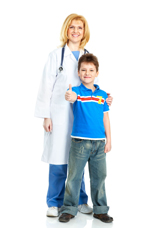 require an ice pack and an encouraging word or a visit to the doctor's office. Nonetheless, most sports injuries are preventable through proper instruction, supervision, and equipment. The place to start is with a thorough sports physical examination, which helps determine, first and foremost, whether the growing body is ready for the rigors of the season.

After a summer spent swimming, running around, and playing in the parks, you might assume that your children are fully conditioned for the physical activity that awaits them in the fall. However, hidden to the untrained eye might lurk a preventable malady such as poor vision or posture. Mary Walsh, a school nurse working in Fairfield County, has seen how these preventable problems can escalate. "Often children coming to my office with headaches suffer from undiagnosed vision problems," she says, "difficulties that are only pronounced once they step onto the playing field. Much of what we see is a symptom rather than a problem itself." Many such symptoms can be caught during a physical examination before the school year begins.

Joseph DiMauro, a physical education teacher working in a Westchester public school, has also witnessed how neglected regular checkups can catch up to students. "It's essential that parents get their kids regular physical examinations," he says. "We've seen time and again how a rather minor problem can turn into something that requires surgery or intense rehabilitation. Poor vision and hearing can lead to serious injuries on the playing field when a child loses track of a ball or fails to hear a warning from a teammate or coach, and these are easily preventable."

Furthermore, with sports-related asthma and childhood diabetes on the rise, it is imperative to get your children into a doctor's office before they start any intense sporting activity.

Children trying out for school-associated sports in New York and Connecticut are required to undergo an adequate sports examination, where a school-approved form is completed by the physician and he or she has signed off on the particular child's participation. Forms are then reviewed by the school nurse and/or athletic trainer. Often schools or districts provide an on-site physician to perform examinations for those who choose.

Scheduling a physical examination is the responsibility of the student; parents should contact their school's nurse or trainer office to obtain the forms that will need to be completed by the physician. Don't wait until the last minute; doctors' offices get busy in the weeks before school starts. Generally, clearance from a doctor is valid for one academic year. Should a child be injured while playing, a second visit to the doctor is required to obtain clearance to rejoin the team.
---
Get Your FREE Indoor Activity eGuide!
---
More Sports Articles
Wanderlust Yoga In The City Offers a One-Day Yoga, Music, and Community Event in NYC
"Roll Model" Campaign During National Bike Safety Month Helps Parents Put the Brakes on Child Bike Fatalities
Nassau County Sports Commission to Honor Hometown Heroes
Baseball Bonding
How and When to Get Your Child to Speak Up to the Coach

Be a good fellow parent and share this with a friend who would be interested
Local Sports Sponsors
See Our Sports Directory