Camp Good Grief on Long Island provides bereaved children a place to gather, grieve, and grow in order to cope with their loss.
When Heather Smith lost her husband to cancer in 2010, helping her two young children cope was a challenge—not least because her then-7-year-old daughter Marin and 2-year-old son Seamus each had very different reactions to the loss.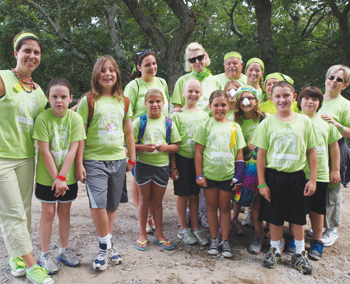 Camp Good Grief's unique summer program, which mixes fun activities with grief therapy, is free for children ages 4 to 17 who have experienced the loss of a loved one. Courtesy East End Hospice
"My daughter had very sad days, and it took me a while to learn that she was concerned that her brother would not have as many memories of their dad as she did," says Smith, who lives in Hampton Bays, NY. "And my son was so young that I think he just picked up on what Marin and I were feeling. There was a big black cloud over us and I know they took their cues from me even as I tried to be strong."
Seamus had nightmares and still talks about his father Brendan every day. Marin didn't want to talk about her father at all, but she would break down just before big events, like her dance recitals, because he wouldn't be there to see them.
Smith says that East End Hospice, which had cared for Brendan, recommended that her children might benefit from attending Camp Good Grief at Peconic Dunes in Southold, NY. The program, which was founded by East End Hospice in 1997, is a free, five-day summer day camp for children ages 4 to 17 who are dealing with the loss of a loved one. Though most of the 150 campers are from the East End area, some have come from Westchester and even Florida. Through daily art and group therapy sessions, campers are able to express their emotions in a safe, nurturing environment with the help of certified social workers, therapists, and nurse practitioners trained in grief counseling for children.
Perhaps more important is the opportunity for these campers to bond with others who share similar feelings of heartache, says director Sarah Zimmerman. "This shared camaraderie is exactly what children who have lost a parent are yearning for. We've had kids tell us, 'This is the only place we feel like we belong,'" she says. "We nurture them on the first day. Most don't want to come because they're afraid. But by that [first] afternoon, there's a change in the air, I think because they begin to realize that everyone there is going through the same thing. It's the only place they're not different."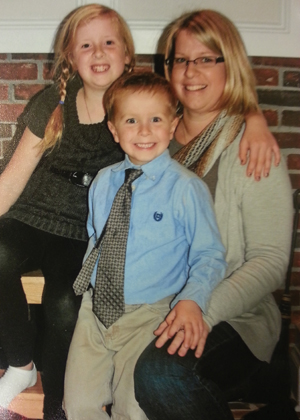 Heather Smith says sending her children to Camp Good Grief was one of the best decisions she's made: "My children have learned—and still [are learning]—that there are lots of other kids out there who have lost someone special to them, and that they aren't alone." Marin (left), now 10, has attended Camp Good Grief for three summers, and Seamus (center), 5, has attended twice. Courtesy Heather Smith
That was a lesson quickly learned by Caitlin Saxtein of Aquebogue, NY, whose father died when she was 12.
"I had a difficult time expressing my emotions about my loss, and it was so hard because I was in middle school and everyone else seemed to have two parents at home. My social life was a constant reminder that my situation was different," says the 24-year-old, who is now a speech pathologist. "But the camp helped me to talk about my emotions and I was able to do so with kids my own age who were in the same situation."
Saxtein returned for a second year, and at age 15 she became a youth volunteer, which she continued until two years ago. She still volunteers in The Good Grief Family Bereavement Center, which began offering weekly child and parent support groups in January. "I enjoyed the program so much I wanted to continue to be a part of it, and I think it helped shape my career choice," she says.
Zimmerman, who is the bereavement coordinator for East End Hospice, says that Camp Good Grief is also about having fun. In fact, when the daily group sessions are over, the kids spend their time enjoying activities like boating, tai chi, swimming, arts and crafts, and a special event of the day, like a visit from the Harlem Wizards basketball team, a helicopter landing, or a puppet show. Smith's children learned drumming there, and they say it's their favorite activity.
According to Zimmerman, parents are welcome at Camp Good Grief, too. "We understand that the hardest job in the world is to have to parent while grieving your own loss, so we support parents," she says. "The best way to help your kids is to get help for yourself."
A family day is held on the final day of camp, giving parents and guardians an opportunity to meet with therapists for feedback about their child's growth and request additional information, resources, and counseling services if needed. Additionally, East End Hospice offers a program for coping through the holidays for children and adults, a bereavement therapy group for parents and guardians, and a festive camp reunion each year. "It gives us a chance to touch base, and the kids actually ask for it," Zimmerman says of the latter event. "Everyone at camp becomes their family."
This summer, Camp Good Grief will be held from Aug. 19-23 at Peconic Dunes in Southold. To register, call 631-288-8400 or email [email protected] For more information on the camp, or to make a donation, visit eeh.org.