Five Long Island teens founded From Our Hearts to Your Toes this spring to collect gently used dance costumes for underprivileged local children.
When 16-year-old Allie Milberg from Melville, Dix Hills, noticed the pile of 15-years-worth of barely used dance costumes growing in her closet, she decided they could serve a better purpose. "I love dancing. It's my passion," says Milberg. "I saw all of my costumes in my closet and thought that they could make someone else happy."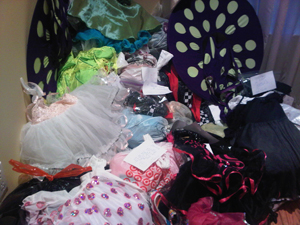 Inspired, Milberg, along with her sister Amanda and friends Gabby Macagnone, Dani Silverstein, and Ilana Winter, founded From Our Hearts to Your Toes and set an ambitious goal to collect more than 1,000 dance costumes, shoes, and accessories in a drive running from May 8 through June 5. The items will be donated to underprivileged children on Long Island and in NYC inner-city dance programs. Although this is the first year of the program, the girls hope to build the program and continue to collect and donate costumes each year.
With help from JAM Dance and Fitness, the studio where Milberg has danced all her life, the girls have spread the word through fliers, emails, and tweets. They've put out donation boxes at their JAM dance recitals and at press time had collected enough costumes to get halfway to their goal. Some of the costumes already have new homes, such as the 20 donated to children at PS 156, The Waverly School of the Arts in Brownsville, Brooklyn, who will participate in the school's Adaptive Physical Education dance festival. The festival, which features performances by children who are often multiply handicapped, is an annual event held in either Queens or Brooklyn. This year's event (date to be announced) marks the first time the children will perform wearing costumes.
For more information about From Our Hearts to Your Toes or where to donate your child's gently used costumes, call Lisa at 212-872-7649.