The kids are on summer vacation, but it's raining outside. Making no sew blankets is a great activity to keep them occupied for a while. And when they're done, donate them to a local animal shelter.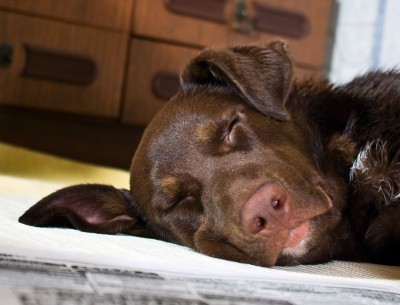 Adopting a pet is not the only way to show that you love and care for animals—even if you're not able to take a pet into your home, you can help keep them comfy while they're in the shelter with a blanket made from a little love. Animals need love, attention, and comfort just like us, and making a blanket for an animal in need can help provide them with the care they deserve. The Comfort for Critters organization, a volunteer program founded in 2007, is dedicated to making blankets for animals in shelters that need them the most. You can knit or crochet a blanket on your own or even donate yarn to Comfort for Critters. The organization not only encourages anyone and everyone to make these blankets, it shows them how. Founder Linda Kozlowski created these easy-to-follow instructions for those at home who are interested in helping out but lack sewing skills:
Step 1: Buy some fleece material and cut it into a 24-inch square. You'll need two pieces to make one blanket. (Keep in mind that the size doesn't need to be exact.)
Step 2: Make 4-inch cuts along the perimeter of the fleece, perpendicular to the edge. At each corner you'll end up cutting out a 4-inch square. You can cut the two pieces of fleece at one time, or separately, but make sure they have the exact same number of cuts along the sides.
Step 3: Lay the two pieces together and tie one strip (made by the 4-inch cuts) from each piece of material together. This effectively "sews" the two pieces together and makes a thick, soft blanket.
Step 4: Relax. The animals will love the softness and feel the love in every tie. Don't worry if it's not perfect!
Send your blankets to Comfort for Critters, take a family trip to your local shelter and personally drop your blanket off to an animal awaiting adoption, or mail it to a shelter near you. For a list of shelters, visit the Comfort for Critters website.