The March for Babies presents the perfect opportunity to get moving with your family - and teach them a little something about giving back in the process. Find a March happening in your area this spring.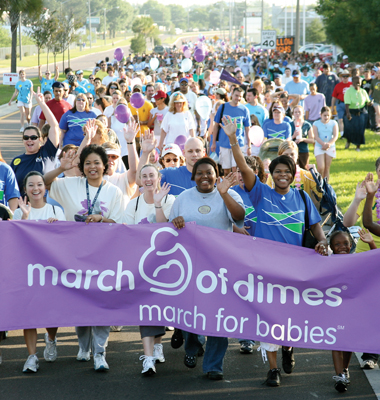 In 1938, polio was raging throughout the United States at such epidemic levels that President Franklin D. Roosevelt needed to intervene. The Squire of Hyde Park founded a charitable organization, the National Foundation for Infantile Paralysis, which raised money for research and public awareness efforts to eliminate the crippling disease - of which Roosevelt would count himself among the afflicted in 1939.
The charity was endorsed by major Hollywood stars who appeared in radio campaigns asking audiences to contribute a dime for fighting polio. Not coincidentally, following FDR's passing in 1945, his portrait began appearing on newly minted dimes - a tribute to his legacy of helping people in need.
When, individually, Drs. Jonas Salk and Albert Sabin created vaccines for polio in 1955 using funds largely sourced from the National Foundation for Infantile Paralysis, the organization chose not to disband, but to reorganize. It changed its name to March of Dimes, and using its charitable infrastructure, recast its mission as improving the health of babies by preventing premature birth, birth defects, and infant mortality.
Still marching along 55 years later, March of Dimes contributes funds for research in biochemistry, genetics, pediatrics, microbiology, and much more - all aimed at treating sick babies. Moreover, funds educate women about preventing premature birth and birth defects, and providing comfort to families with babies in intensive care.
As in years past, funding for all these efforts arrives from individual and corporate charities. While you can certainly make a donation directly to March of Dimes, a healthy alternative would be to participate in the organization's annual March for Babies. Since its inception in 1970, this signature event has raised $1.8 billion. It gets your heart working and isn't too arduous (a three- to six-mile walk is the norm) and it's a great thing to do on a beautiful spring day.

Registration is free. Join a March for Babies in your area:
Rockland County, NY
Where: Blue Hill Plaza, 1 Blue Hill Plaza, Pearl River
When: April 30, 8am registration and 9am walk
Queens
Where: Eisenhower Memorial Park, Merrick Avenue, East Meadow
When: April 30, 8am registration and 9am walk
Fairfield County, CT
Where: Jennings Beach, Fairfield
When: April 30, 9am registration and 10am walk
Staten Island
Where: Staten Island Mall, 2655 Richmond Avenue, Staten Island
When: May 1, 8am registration and 9am walk
Manhattan
Where: 62nd Street and Amsterdam Avenue, Manhattan
When: May 1, 8:30am registration and 10am walk
Westchester County, NY
Where: Saxon Woods Pool, 1800 Mamaroneck Avenue, White Plains
When: May 1, 8am registration; 9am walk
Long Island
Where: Stony Brook Long Island Children's Hospital, West Campus (begins behind athletic fields), Stony Brook
When: May 1, 8:30am registration; 10am walk
For more information or to register, visit www.marchforbabies.org.
Also see: Our Online Calendar, for even more family activities in the New York metro area