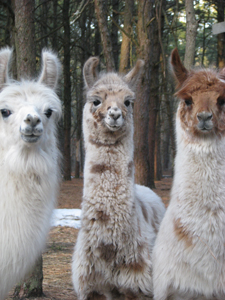 This spring, the Hallockville Museum Farm is hosting the inaugural Long Island Fleece and Fiber Fair to get Long Islanders and visitors back to their agriculture roots. Sponsored by the Long Island Livestock Company, the event will feature demonstrations of traditional agricultural activities held this time of year, including sheep shearing and herding, wool dying, as well as spinning and weaving. Families can visit with llamas, alpacas and sheep, sign up for a variety of workshops, and browse the farm's fiber market, where vendors will sell yarn and other fiber-related products.
"There is growing appreciation of the fiber arts in the region and we want to educate the general public about how fiber is produced and crafted," said Tabbethia Haubold of Long Island Livestock Company. Judy Barth of Hallockville adds, "The Fair is the first of its kind on Long Island and the museum farm provides a wonderful and historic venue."
Listed on the National Register of Historic Places, the museum and farm encompass over 28 acres, 19 historic houses, barns and outbuildings dating as far back as the mid-18th century. Families can tour a shoemaker's shop, wander the gardens and explore Hallock Homestead, which was built in 1765 by Ruben Brown. The farm was later sold to Ezra Hallock, who lived there sometime after the American Revolution.
Throughout the year, the museum hosts educational activities and summer camps for children to learn about farming and visit with animals such as chickens, cows and sheep. Other craft events and festivals are also held (see website for calendar of events) and barn and site rentals are available for parties, weddings and other functions.
Info
Where: Hallockville Museum Farm, 6038 Sound Avenue, Riverhead
When: Saturday, May 22, 10am-5pm
How much: $5; free for kids under 12
For more information: 631-298-5292 or www.hallockville.com