Jill Brack, a Manhattan mom of one who founded GlowTM Gluten Free, talks to us about having celiac disease, starting her own business, and getting inspiration from daughter Stella.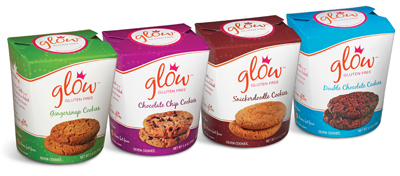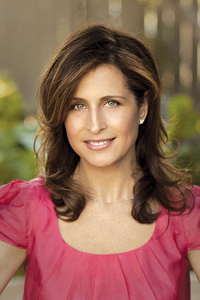 Five years ago, after Jill Brack and her daughter were both diagnosed with celiac disease, a digestive and autoimmune disorder that can cause damage to the small intestine and other health problems when gluten is eaten, Brack was determined to make sure Stella didn't feel singled out at birthday parties. So Brack started whipping up some gluten free treats and after many requests from Stella's friends for her cookies, decided she would try to sell them to the celiac community. In 2008 Glow Gluten Free was born. Today, GlowTM Gluten Free Cookies, are sold in stores nationwide and in March, Rachel Ray selected GlowTM Gluten Free as the "Snack of the Day" on her nationally syndicated talk show.
Quick Stats: Brack lives in Manhattan with husband of 13 years, Regi, and 13-year-old daughter, Stella.
How did you and your daughter's battle with celiac disease turn into a business idea?
When you have celiac disease, you're immediately propelled into this community of people that share it, because it's very unusual to be in these social situations where you have to eat differently than everybody else. When I was diagnosed, I didn't care if I never ate another cupcake or piece of bread, but when my daughter was diagnosed, it became a real social issue for her because kids at that age (Stella was 8 when she was diagnosed) hate being different-they're completely singled out. Even when I packed her own food, she wouldn't eat at parties. So I would ask the other moms what they were going to have at the party and I started baking things that looked and tasted the same. When I started baking, Stella's friends would ask if they could come over and have the cookies because they didn't know the difference.
In the beginning, was the goal to turn this idea into a business or was it solely for personal reasons?
I absolutely was not looking to open a business! I had this great product that everyone was asking for and I kept baking for people and giving it away for free-then we thought maybe we should sell it and see if people would actually buy it.
Where was the niche in the marketplace?
At that time, there were prepackaged gluten free foods but they either looked super healthy and kids weren't really into them, or they had completely empty calories that I wouldn't eat myself and I certainly didn't want to give to my daughter. I think my niche is that I'm actually a part of the community and this was born out of my need and my daughter's desire to have these products out there. One thing that sets us apart from other companies is that our product doesn't look like it's special or health food-it's a fun brand that even kids gravitate to.
Where does "Glow" come from?
When we finally had the recipe we really liked, we were giggly, laughing, and glowing. We really wanted something positive that was going to express that feeling and that we knew was going to be a hit.
What were the steps involved to getting your business off the ground?
There are a lot of support groups that have vendors come to sell their goodies and I would go to these vendor fairs and talk to the newly diagnosed people, some of whom have little kids, and some who are my good friends now! People were buying the cookies, so I brought the cookies to a few local stores and they were happy to buy them and they kept reordering them. It kind of started to snowball: we started selling them in cellophane bags and then we realized when we brought them to the market, the cookies were breaking so we needed real packaging. It was hard to find a commercial kitchen that was certified gluten and dairy free. There are many commercial kitchens available, but few that are "clean."
What were some roadblocks or challenges along the way?
It's easy to make a batch of cookies in your kitchen with a KitchenAid mixer, but I had no experience scaling it up to 300 or 500 pounds. Also, gluten free and dairy free ingredients are super expensive. They're hard to source because you have to make sure they're being processed in the right facility and they're being manufactured in a clean way. It's a real challenge now to keep our costs down because everything keeps getting more expensive.
What's the biggest key to your success?
The local retailers-they like to support local brands and that's really been keeping us alive.
How do you feel about your daughter seeing you as a business owner and a strong female model?
I love it and I call on her to help me. I think it's great to involve kids and teach them about what you do.
What's your advice for a mom who wants to launch her own business?
Don't talk about it, just do it. To want something and get it off the ground, it's something you really have to believe in.
What's next?
We recently found out that a national distributor, United National Foods, wants to take us on. They're the largest natural foods distributor and it's quite an honor for them to take on a small company that's only been in business since 2008.
For more information about Jill Brack and GlowTM Gluten Free Cookies, visit www.glowglutenfree.com.