New York is a city of dreamers, but even the most spirited New Yorker would be hard-pressed to envision the theatrical and aerial performances of the cast of Cirque Dreams Jungle Fantasy. Created by native New Yorker Neil Goldberg, the show appears on Broadway this summer for the first time. It is difficult to categorize, though this may be part of its appeal. While not a typical Broadway production, it envelops you into its jungle-like world from the moment you step into the theater. There is no storyline to follow, but throughout the show, you wonder what will happen next.

   To say the show is unique is an understatement. The first act, Jungle by Day, sees performances by vine swingers, jungle boys, butterflies, and birds. Jungle By Night consists of trapeze owls, jungle kings, and snake rollers. Only two non-acrobatic actors take part in the play: Mother Nature, who croons a beautiful narrative, and Soultree, a chiseled violin player dressed in a tree suit, whose sheer enthusiasm for playing the instrument is apparent. The rest of the 28-member international cast consists of aerialists, contortionists, acrobats, jugglers, and musicians. The action is fast-paced, full of feats you can hardly believe even though you are watching them, all without a net.
   Performers hang upside down on thin pieces of material and swing over the front audience in perfect form. Contortionists arrange their bodies into unbelievable positions. A crowd favorite, the Giraffe Balancing Act, has two performers stand on a small wooden plank atop a cylinder (pictured below) that slides back and forth on top of a table. As the act continues, the number of tables and cylinders involved grows until the audience cringes. The executions are flawless.
   While not many Broadway shows have the ability to hold the attention of a very young child, this show accomplishes just that. It runs two hours with a 20-minute intermission.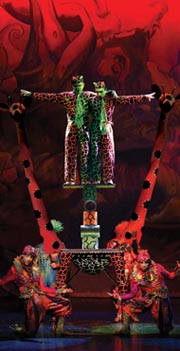 Info



Where
: Broadway Theatre, 1681 Broadway
When:
Through August 24
How much
: $25-$95
For more information:
www.cirquedreamsbroadway.com