For the past seven months, Fidelity FutureStage students in 10 NYC schools participated in intensive classroom workshops taught by theater teachers from Learning through an Expanded Arts Program (LeAp), learning playwriting, acting, production, and design techniques. Students wrote 480 original plays in total and one play from each school was selected by Broadway professionals to be developed into a full production. Five of those plays were performed last night at the Fidelity FutureStage Celebration Day at Frank Sinatra School of the Arts in Long Island City, Queens (the remaining five will be performed at a later date). The show was hosted by Broadway dancer, singer, and performer Judine Somerville, who is known for her role in Hairspray. Throughout the night, students took to the stage to act out real-life situations and teen issues they have experienced.
Participating Schools in the Fidelity FutureStage Celebration Day included:
Health Opportunities High School (Bronx)
High School for Public Service: Heroes of Tomorrow (Brooklyn)
Hillcrest High School (Queens)
Repertory Company High School for Theatre Arts (Manhattan)
Salk School of Science (Manhattan)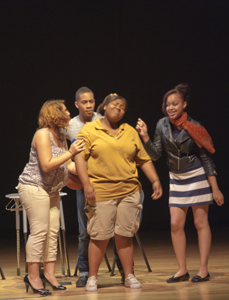 Ten students from High School for Public Service in Brooklyn performed Real Girl (see photo at right), written by student playwright Amaya Santos (age 17). The play conveyed a message that so many students are facing as they leave high school: Listen to your inner voice, and find the strength to make life-altering decisions on your own.

There was also a brief slideshow, played to "This is the Best One Yet" by the Black Eyed Peas, which included photos of the students throughout the program, when they attended Broadway shows and had the opportunity to meet Broadway luminaries like Chazz Palminteri, Sahr Ngaujah, Kathleen Marshall, and Joe DiPietro.

At the end of the night, Kenneth Dingledine from play publishers Samuel French Press surprised the playwrights and student performers with published books of the 10 chosen plays.

"It was a very emotional and inspiring night," said LeAp's director of the program, Alice Krieger. "How many students can say, at the age of 17, that they are published playwrights. The talent in this room last night was extraordinary."