SOOTHING 
   Breastfeeding moms can get relief from sore nipples with a new lanolin-free salve,
Mustela 9 Months Nursing Comfort Balm
.  The balm hydrates the nipple and can reduce irritation and cracking.  It is hypoallergenic, making it safe for baby, and it is also non-staining  and not sticky.  Keep it after you stop breastfeeding if you want to train for the marathon; the balm also combats the friction burn long-distance runners get.  $14;
www.mustelaUSA.com
.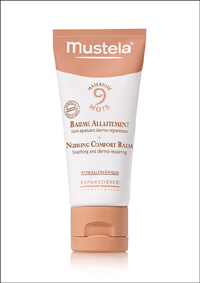 CUT THE JUICE
   At home, you can water down your kids' juice, but until now, you until now you didn't have that option with juice boxes.  Sensible Sippers are a mix of water and juice, giving kids on-the-go organic juice that's lower in calories and sugar.  The juice, in Fruit Punch, Banana, Apple and Mixed Berry, has the Berenstain Bears on the box to appeal to young children.  From Knudsen, the 8-pack of 4.23oz. juice boxes is $3.99-$4.49.  For more info, go to www.knudsenjuices.com.   For older kids, Apple & Eve has a combo of fruit juice and sparkling water, Fizz Ed — a healthy alternative to soda.  Red Raspberry, Orange Mango, Pomegranate Cherry or Green Apple flavors are sold in 8oz. cans, 79¢-99¢ each. www.appleandeve.com.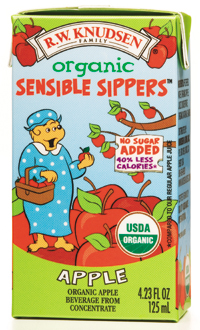 PLUM ADDITION   Plum Organics
, New York maker of organic frozen baby food, has new flavors, three of which are fortified with DHA.  DHA, essential for brain and eye development, has recently been added to infant formula; now, it is in Plum's stage one pumpkin banana puree, a chunkier stage two mango muesli, and a toddler food — black bean tomato ragout.  Plum Organics is sold at Whole Foods and natural food stores, about $3.49 for a two-pack of 4-oz. servings.
www.plumorganics.com
.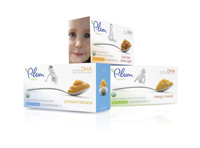 THE SECRET IS OUT
   Your pregnant belly may be forward marching, but it can have a smooth, seamless look with
Secret Fit Belly
from Motherhood Maternity.  The tube of stretchy fabric keeps your pants in place and your belly button under wraps. At the store, you can buy it already sewn into Seven jeans or Motherhood Maternity jeans.
www.motherhood.com
or (800) 4mom2be.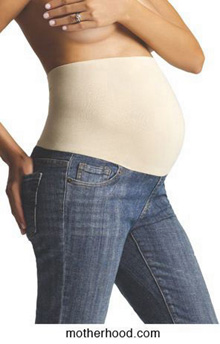 WARMTH FROM HEAD TO TOE   SmartWool
products are known to provide perfect warmth, with no itch, for kids and adults.  Now babies can enjoy the socks, and have comfy toes all winter long.  Sizes 6-24 months, $15.95 at www.smartwool.com.  Shred Alert has colorful hats little kids won't yank off. An adjustable cord 'locks' the hat on, and the soft polar fleece might even make them forget they're wearing a hat.  The Kids Hippy Beanie, in blue, black and red, is $24 at
www.shredalert.com
.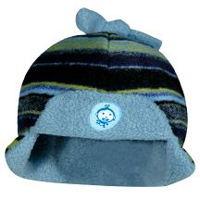 GIVING KIDS A BOOST
   Little kids can sit up in a big chair, like everyone else, with
Kaboost
, an ingenious chair booster that raises the chair from the bottom.  The plastic Kaboost can be used on most four-legged chairs, and folds up so it can be carried to grandma's or a restaurant that doesn't have booster seats.  It has two height adjustments, and stays attached to the chair.  At Buy Buy Baby, Kidfresh, Mini Jake, or at
www.kaboost.com
; $39.95.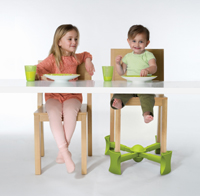 CLEAN BUT NOT DRY
   If you use a hand sanitizer frequently, you may have noticed your hands dry out.  Most sanitizers are made with alcohol, but Hanclens is alcohol-free.  And since little kids have gotten sick from licking their hands after using an alcohol-based sanitizer, Hanclens is safer.  $9.95 at Costco, for a pack with three 8oz. containers and a 2oz. travel bottle. It's also sold at www.woodwardlabs.com.