FRUIT & VEG


—
First Juice
may soon become the first choice for toddlers.  The organic fruit and vegetable blends have 50 percent less sugar and calories, since they're made with water.  Apple and carrot or banana and carrot varieties are fortified with calcium and vitamins A, C, and D.  First Juice comes in 8-oz. sippy cups ($1.99) or 32-oz. bottles for home ($3.29) at Whole Foods;
www.firstjuice.com
. 
—Older kids and adults can drink their veggies with Kagome. These juices are half fruit, half vegetable, and 'sneak' more nutrients into fruit drinks. Yellow Mango Orchard has carrot, asparagus, beet and spinach, in addition to fruit; Purple Roots and Fruits combines purple carrot, beet, spinach, parsley, watercress, lettuce, cabbage, apple, grape, lemon and wild berry.  The juices are also sold at Whole Foods as well as Stop & Shop, White Plains. $2.99 for 11.5 oz, $3.99 for 30 oz.or at www.kagome.us.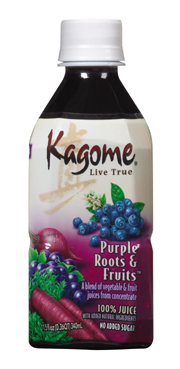 STOMACH SOOTHERS


—If your kids gets car sick, you will try any remedy.
QueaseEASE
is a new non-drug alternative, a natural inhaler with the soothing scents of peppermint, lavender, ginger and spearmint. QueaseEASE also works to combat morning sickness. The scent is in a small metal container; if the cap is replaced after a whiff, the scent lasts 6-8 months.  $14.99 at
www.soothing-scents.com
.
—You can also help settle your child's stomach with
TUMS Kids
, a chewable antacid that also provides 300 mg of calcium.  Designed for kids ages 2-11, TUMS Kids comes in cherry blast, and is about $4.47 for 36 tablets at Walgreen's. You can identify patterns and triggers in your child's stomach aches with the free Tummy Ache Tracker at
www.TUMSKids.com
.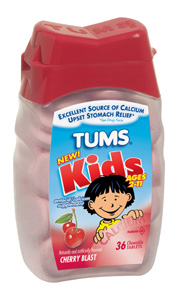 JUST FOR MOMS


    Stonyfield Farms has a new organic yogurt,
YoMommy
, designed for "expectant, nursing, and new moms and beyond."  The yogurt has folic acid, vitamin D, and DHA, all essential for pregnant women and their growing babies.  YoMommy also contains active probiotic cultures to aid digestion.  It comes in 4-oz. four-packs; two each of strawberry and peach or blueberry and raspberry. Get more info at
www.stonyfield.com
.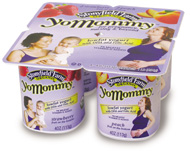 GET A GRIP!


    Babies' small hands can't always hold a bottle.
The Bottle Mate
comes to the rescue.  The cloth wrap, which has a non-slip tread and Velcro closure, is made of fabric that wicks moisture from the bottle, keeping the outside dry. The Bottle Mate also dresses up the bottle, in six color choices, including black-and-white cow spots. Size is adjustable for different bottles; $6 at
www.dittanybaby.com
.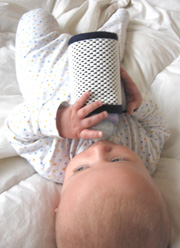 BAD NEWS FOR DUST MITES


The LG SteamWasher
washing machine comes with a new allergen-reducing wash cycle, Allergiene. Certified as asthma and allergy friendly by the Asthma and Allergy Foundation of America, the cycle aims to reduce indoor allergens such as dust mites and pet dander by over 95 percent.  The front loading washing machine is also energy star rated, using less water and energy than other front loaders (and far less than top-loaders) — even when you set the steam cycle, which uses hot water to rid clothes and bedding of allergens. The matching
SteamDryer
reduces wrinkles to save ironing time and energy. The washer comes in stainless steel, midnight blue, wild cherry red and white, $1,399-$2,699; the matching dryer is $1,199-$2,699. Get more info at
www.Lgusa.com
.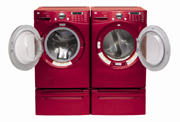 THE RIGHT STUFF
   A new natural cosmetic line, created by moms in the New York area, offers luxurious, safe products at a reasonable price.  Terralina was started by pregnant women, but it's for any woman who wants to avoid parabens, allergens and artificial fragrances.  The rich body lotion, made from shea butter, olive oil and sandalwood, comes scented or unscented, $28 for 8-oz.; the non-oily gentle facial toner uses aloe and chamomile, $20 for 6.7-oz. Sold only at
www.terralina.com
.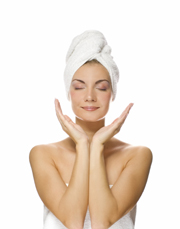 BOTTOMS UP
    A Canadian company, Dimpleskins Naturals, has just released its signature salve,
Bum Bum Balm
, in the U.S.  The natural and organic diaper cream uses calendula and lavender to soothe tender bottoms.  The cream also wipes off easily, and smells good to boot.  It comes in a 2-oz. tin that makes it easy to slip in a diaper bag.  $11 at www.
BumBumBalm.com
.