It's cold outside! But that's no excuse for the winter inactivity that is a too-common malady for many families. I know as both an educator and a parent that the payoff for the extra effort required to stay active through the season is great. More exercise means more energy, better moods (especially key if you have adolescents at home!), sounder sleep, and less likelihood of winter weight gain.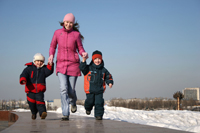 Where to start?
Designate an area inside your house as an exercise space.
This need not be a dedicated room or have expensive equipment — although the prices for home exercise equipment, such as treadmills and elliptical machines, have dropped, making them affordable for many families. And if you purchase them, use them regularly and properly — and not as a clothes rack!  
Reserve some time every day for the family to sweat together.
If your house is too chaotic first thing in the morning, consider the 20 minutes before family dinner. Select an exercise DVD or daily television show that everyone can follow, making sure it is age-appropriate.   
Dress for the activity and for the weather.
A good pair of cross trainers will serve you well. Get warm, waterproof boots for the snow, bowling shoes for the lanes. The right equipment makes all the difference for both enjoyment and success.  
Bundle up and take a family walk.
Layer on clothing that can be taken off and carried as you get your blood moving. Make the walk an adventure, or entice everyone with promises of hot cocoa at its end.  
Use the community as a resource.
Look for leagues for your children organized by age or skill. Ys and community houses offer affordable options — basketball clinics, gymnastics, ballet, soccer and many other classes for children and an assortment of options for adults. And the martial arts are not only a great form of exercise, they teach many other life skills, such as focus and self-discipline.  
Consider family recreation like bowling.
Or join a fitness center that has family or children aerobics activities that are structured for young bodies. Just be certain to participate in whatever you've selected!  
Go ice skating or play in the snow.
A friendly-family snowball fight with running, tossing and dodging gets everyone moving. Try cross-country skiing, which provides a terrific aerobic workout. Assemble the right gear — from hats and mittens, to boots, to the equipment itself — so you're ready to go sledding, tubing, or sleigh riding at the first snowfall.  
Get competitive.
Westchester Fairfield Hebrew Academy's athletic director, Brian Rosa, suggests an intra-family competition to encourage everyone. Let each family member set his or her personal goal — how many sit-ups to work towards, for example. Or perhaps the competition is to be the first in the family to exercise each morning, or to exercise the most days in a row. Decide how to acknowledge the winner.  
Crank up the music!
Have a family dance party. Play your family's favorite music or invite each child to take a turn at being DJ. Music inspires creativity and dancing is certainly a great way to get moving.   
Plan on at least 30 minutes of activity per day, recommends coach Rosa.
He suggests building a fitness plan into the family's daily activities. Have each family member keep an exercise log. Young children can draw pictures or use stickers to mark the days in a notebook or calendar. Seeing days marked on paper makes it hard to argue that your son is — or isn't — getting the exercise he should. Thirty minutes of walking the dog yesterday, an hour of tag in the neighborhood park … your family may be getting more exercise than you realize!
NORA ANDERSON is Head of School of the Westchester Fairfield Hebrew Academy.  She is getting lots of exercise walking the school's new 17-acre campus in the heart of Greenwich. Her children participate in indoor sports through the winter; two have played high school varsity basketball. Her youngest looks forward to joining the junior varsity high school team next year. Whenever she finds time, she exercises at the Y.