North Shore Performing Arts Center visits two area nursing homes to perform for the residents, a 14-year-old tradition that is as old as the studio itself.
North Shore Performing Arts Center, now in its 14th year, has a holiday tradition that's as old as the studio itself. Every year since its inception, the dance studio has visited two nursing homes and performed for the residents. This year was no different, and on Saturday December 10, 30 of the center's dancers put on a 28-number performance for residents at Somerset Gardens in Plainview and residents at Brandywine Senior Living in Melville.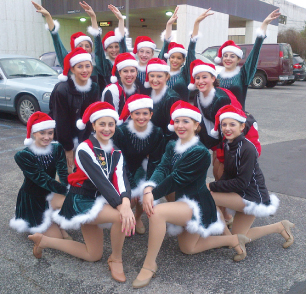 Dancers from North Shore Performing Arts Center brought holiday spirit on the road to Somerset Gardens and Brandywine Senior Living with their annual winter show.
Co-founders Pam Roeske and Angela Trivigno originally conceived of the idea as a way to give back to the community. "It was something we just really wanted to do," says Trivigno, "especially around the holidays." She reflected on the trajectory of the show, reminiscing about the first performance that included only seven dance numbers and musical theater skits. "Our performance time used to be anywhere from 20 to 30 minutes," she says. "This year we gave them a full performance, including ballet, lyrical, contemporary, jazz, tap, hip-hop, and musical theater...now the show lasts an hour and 15 minutes!"
The residents adore the annual show as much as the dancers enjoy performing for them, and Trivigno says that over the years they have developed relationships with a lot of the residents. The residents recognize the dancers year after year and are able to watch them grow. "It's a huge reason why we keep going back," she says. "It's very rewarding for everyone."
Out of 1,000 students at the studio, only 30 perform in the annual show at the nursing home. They range in age from 4 to 18. Some numbers this year included a hip-hop dance to "Whip My Hair," a lyrical number to "Skyscraper," and a tap dance to "Do You Love Me." To close the show, 14 senior dancers performed a kickline to "Santa Clause Is Coming To Town."
"We always end our performance with our kickline," Trivigno says. "It's a phenomenal number-that was our big show stopper."