The aliens have landed. Musically inspiring, inventive aliens, that is! The Voca People octet debuts Off-Broadway to rave reviews and family-packed audiences (smiling teens, too).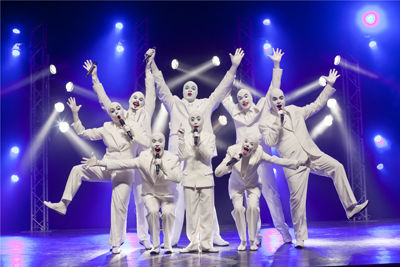 New York City to Planet Earth: "The Voca People have landed." Repeat: "The Voca People have landed." Prepare humankind for audio transmission. Correction: Make that audio transformation -- these aliens communicate in transcendent a cappella ways.
Yes, visually they do resemble a profoundly whitewashed Blue Man Group -- only instead of props, paint, and physical insanity, The Voca People (or "Vocas" for short) express themselves via sound: tongue-twisting percussive, string, brass, and bagpipe effects conjured through their cosmically-enhanced vocal chords.
Their most potent superpowers lie in song. Pick a genre, any genre: Through their intergalactic mind-melding skills, they are able to channel music in constant free-floating form from earthling brains and convert it into a cappella nirvana.
Discovered by Lior Kalfo and Shai Fishman two years ago, the Voca People have a back-story unlike any other musical group. But then, how often do aliens hit the global entertainment circuit?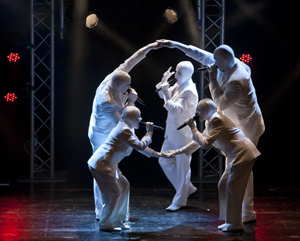 Explains creator/director/choreographer Kalfo: "While sitting in an upstate New York farmhouse I heard a blast and saw a spaceship crash near the cows." He says once the extra-terrestrial crew of eight introduced themselves, (thankfully all survived!), they, or rather their spokes-alien Scratcher, revealed their musical mantra: "Life is Music and Music is Life." (Evidently, on their home planet, everyone communicates exclusively through music and vocal expressions.)
Impressed, Kalfo and Fishman were moved to help the displaced octet put together a show that would allow them to "spread their unique musical talents throughout the galaxy."
To date, Voca People has performed to sold-out houses throughout Europe, South America, and the Middle East -- but in the here and now, their current open-ended run Off-Broadway upstairs at the Westside Theatre marks the first time the group has performed in the U.S.
According to Kalfo, the show itself is based loosely on the Voca's crash landing on Earth. "It starts with an off-stage spaceship crash, followed by the Vocas coming onto the stage."
As the newcomers try to adapt to their new surroundings, they discover the microphone, a tidbit of technology they'd never encountered before. "They become excited as they discover how it enhances sound," Kalfo says.
As for the audience, as soon as the Vocas recognize they're not alone, they're somewhat afraid, "until they hear the music inside [the audience members'] heads." FYI: To restore their spaceship to working order, the Vocas require energy -- musical energy -- and the eclectic musical library floating about theatergoers' craniums is the perfect solution.
A wild blend of sci-fi and show biz, the production comes across as an interactive Off-Broadway play date, which explains why musical prodigies, fun-loving theatergoers, and sci-fi freaks "from five to 105" cannot resist the gravitational pull into the audio eddy taking place both onstage and in the aisles. We're talking beyond cool, beyond suspension of disbelief, beyond planet Earth.
"I love that we are appealing to different age groups," says Eva Price, one of the show's producers who finds herself impressed by how adept the cast is at homing in, participation-wise, on kids and families. "What we notice at each performance is that kids are eager to be involved. It's like an electric current running through the audience. They see one kid doing it and suddenly all the little hands go up."
Topping the list of kid pleasers is the interactive portion of the show known as "Bagpipes" during which the Vocas go into the audience, selecting six people to "become" musical instruments. And while the Vocas are actually producing the sounds, the effect for "the chosen ones" is one of an electric guitar, trumpet, drum kit, triangle, or bagpipes penetrating their bodies.
Recalls Price: "At one performance, a set of 8- or 9-year-old twins were among those selected, and you could see their eyes literally light up when they thought the sounds were coming out of them."
And that's only one of several anecdotes from Price's Voca vault, including a touching reference to a teen with Down's syndrome who the Vocas invited onto the stage one night. "His family thanked the stage manager after the show...he felt so included and happy -- it was really touching."
You Tube Covers
Meanwhile, Voca groupies, mostly pre-teens, have taken to YouTube in impressive numbers to post tribute videos to the eggshell-hued extraterrestrials (albeit sans costumes and makeup). The majority of these lip-sink homages stick to the Voca's signature version of "Bohemian Rhapsody," but at least one, "The voca people cover" (three big kids, one grade-schooler), goes for the medley -- with choreographed moves!
The self-produced clips are tucked among a banquet of Voca People videos. And while you're scrolling through cyberspace, be sure to check out the Voca's website for background, videos, photos, and downloadable ring tones.
Still, nothing measures up to a close encounter of the harmonic/family-fabulous kind, and Voca People is clearly a show that has its generational appeal down pat. Thursday shows start at 7pm. "And even on school nights, an 8pm curtain works out pretty well, since the show is only 90 minutes with no intermission," says Price.
Just Who Are the Voca People?
Beat On, spaceship commander
Musical abilities: bestows exact timing; can simulate any percussion instrument in the Galactical Book of Music
Tubas, head bass/ship chef
Musical abilities: tuba, bass guitar, acoustic bass, bagpipes; certified as possessing the lowest voice in the southern hemisphere
Mezzo, locator
Musical abilities: mezzo singer, percussions, guitars, violin (revered earth musician: Marilyn Monroe singing happy birthday to the president)
Tenoro, head technician/operator of spaceship's musical energy charger
Musical abilities: tenor singer, guitars, percussions, saxophone, bagpipes
Scratcher, head translator/deputy captain
Musical abilities: drums, percussions, sound effects, and exceptional scratching ability
Alta, galactical biologist
Musical abilities: alt singer, guitars, violins; her ability to hold a tone is among the most impressive in musical history
Bari-Tone, company fitness trainer/expert in musical and psychological warfare.
Musical abilities: Baritone singer, guitars, percussion, saxophone, bagpipes
Soprana, spaceship doctor
Musical abilities: mezzo soprano singer, percussion, guitars, trumpets, bagpipes, violin, imitating courtship sounds of Mars' Gumguman dwarf elephants
All the Details
Where: The Westside Theatre, 407 W. 43rd Street
When: Monday-Tuesday at 8pm; Thursday at 7pm; Friday at 8pm; Saturday at 3pm and 9pm; Sunday at 2pm and 7pm
Who: Little kids, middle kids, teens, and adults; nothing scary, tons of awesome
Special "Kids Go Free" Ticket Offer: If you visit www.vocapeoplenyc.com/buy-tickets/special-offers you'll hit the jackpot, and I quote: Kids (under 12 only) get in for free; tickets are $39.75 each (one $79 ticket and one free ticket); now through October 30 only.
Party Package: September through Thanksgiving, Voca People is promoting a special Celebrate your Child's Birthday at Voca People Party Package. Bring a group of eight or more for the special discount party price. Includes a special on-stage appearance during the show and a special vanilla-ice cream-and-white frosting Voca-style cake -- and, of course, your star-for-the-day will be serenaded with "Happy Birthday" by the Vocas themselves.
Intergalactic Halloween: The Vocas have signed on to take part in the 39th Annual Village Halloween Parade on Monday, October 31 and will be appearing along the route. They've also partnered with the annual Nightmare Haunted House, currently running through November 5.
And be sure to check the Voca People website for music video parodies of classic Halloween songs. Bound to turn into major YouTube attractions, these videos feature Vocas learning the ins and outs of trick-or-treating in NYC, shopping for costumes, and more. Another seasonal must-see on the website is a gallery of photos showing the aliens posing with such traditional Halloween props as broomsticks, witch hats, pitchforks, and jack-o-lanterns.