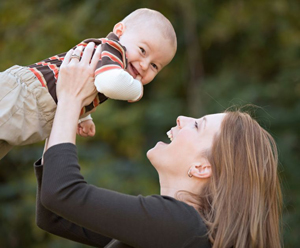 In conjunction with the new PBS documentary "This Emotional Life," set to air in early January 2010, the network is sponsoring an Early Childhood Attachment Toolkit Campaign, which will distribute informational "toolkits" to expecting parents on the importance of a secure emotional attachment between an infant and his or her caregiver. According to a PBS press release, the information to be distributed in these toolkits aims to educate parents about the science behind early attachment and to help them develop the skills they need to positively interact with their child during his or her first year of life - the crucial bonding period. Through education, the campaign seeks to increase the number of secure attachments in children as well as decrease the amount and severity of attachment disorders that result from a lack of emotional attachment.
Below are some tips for parents that will be featured in the campaign.
Five Small Steps with Long-Lasting Effects:
1. Understand your child's cues and style of communication
2. Create an environment of security and trust
3. Provide consistent and responsive parenting
4. Connect with your baby through touch, physical comfort, laughter, and play
5. Take care of your own emotional and physical well-being
10 Ways to Connect with Your Baby
1. Spend one-on-one time
2. Sing
3. Dance to your favorite music
4. Mimic baby's cooing and vocalization
5. Engage in laughter and play
6. Comfort your baby through touch
7. Make eye contact
8. Talk and read
9. Hold or wear your baby close to you
10. Give a soothing bath
To read more about the upcoming PBS documentary "This Emotional Life," click here.