When you're traveling with kids, you may want a bit of the exotic, but you also need to make sure you have the familiar. Panama offers the perfect combination: it certainly induces the 'wow' factor, but you can also get your child his drink of choice. And it is truly educational, for both parents and kids.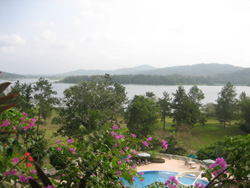 Gamboa Rainforest Resort
Panama is the midst of a building boom; there is a huge infusion of cash because the renowned Panama Canal is expanding. By 2012, a third set of locks will double its capacity, with water recycling basins to reduce the environmental impact. Everywhere we went, we were told how much fresh water the canal uses (26.7 million gallons per ship at each lock), but the canal also saves tons of fuel because ships have shorter distances to travel.

As a child, you learn about the canal, but you can't really understand its engineering genius until you actually see it. You can do this at the Miraflores Locks Visitors Center, where, if you time your visit, you can see a ship or two pass through. There are exhibits about the canal and how it was built, but most fascinating is standing outside on the observation decks and watching the water levels change. However, do leave time for the inside offerings, where you can 'drive' a ship through one of the locks, and learn about the canal's history, effect on the environment, and importance in trade.

The Gamboa Rainforest Resort, in a national park, has its own thrills. The 150-room resort, with two-level junior suites ideal for families, has its own guided aerial tram ride through the rainforest canopy. We saw a toucan, many howler monkeys, and scores of iguanas as we glided through the tree tops; equally impressive was the lush vegetation. When we got to the end of the ride, we walked up a 90-foot observation tower. A tram tour includes the resort's ecological exhibits, with a butterfly pavilion, reptile display and botanical gardens.

The resort also runs boat tours of Monkey Island, and provides cut-up apples so you can feed capuchin monkeys right from your hand. We didn't see any sloths on this tour, because they're nocturnal. But when we went on a nighttime safari, we saw several, along with large caimans, a species of crocodile that comes alarmingly to life at night. By the way, the local bug population also stirs at night, particularly on the water; be sure to bring bug spray.

The resort is beautifully landscaped. Next to the large pool, with swim-up bar and basketball hoops, is a wading pool. But though it is billed as luxury, don't expect The Four Seasons. The pool was short of towels, and our bathroom ran out of hot water in the middle of a relatively short shower.

There are three restaurants at the hotel: a casual spot, Corotu, for any meal; Charges Riverview for dinner; and Los Largartos, open for lunch only. This open-air restaurant, at the marina, is a fun place that you should experience at least once. There are caiman replicas that you can examine closely, and Indian handicrafts for sale. At the marina, you can rent kayaks and pedal boats. There are also has bicycles for rent, and biking and hiking trails.

The resort offers tours of Panama City, with its two distinct areas — the modern part where high-rises define the skyline, and a 16th-century colonial city. If you want to get a better understanding of the environment, visit the Marine Exhibit at the Smithsonian Tropical Research Institute. This low-key, open-air museum has interactive exhibits, a short film about marine life, and a nature walk where we saw more sloths sleeping in trees.

Info:
—Miraflores Visitors Center: adults, $8; children 5-17, $5; under 5, free. www.pancanal.com/eng/anuncios/cvm/index.html
—Gamboa Rainforest Resort: www.gamboaresort.com
—Monkey Island boat tour: adults, $26.25; children 6-12, $13; under 5, free.
—Nocturnal safari: adults, $31.50; children 6-12, $15.75; under 5, free.
—Aerial tram and ecological exhibits: adults, $42; children 6-12, $21; under age 5, free (you can tour the exhibits only for $10 each).
—Marine Exhibit: adults, $2; children 2-12, 50c.

Before you go: Panama's temperatures are between 75º and 95º F all year, with a dry season from late November to April. During the 'green' season the rest of the year, there may be some rain, but you also see more abundant wildlife and flowers.