TOYS & GAMES 
DOODLING PLAY
   Westchester residents Bill Phelps and Steve Wright have a game to unleash the inner artist and linguist in anyone. Yamodo is a game without winning or losing — players get a card with a made-up word, and a beginning drawing, and each player contributes part of the imagined definition and more of the drawing.  You can play this alone, but it is more fun with the whole family (six and up).  $19.95 at www.barnesandnoble.com. (Review posted 5/07)
FATHER OF INVENTION
  When Michel Alvarez couldn't interest his son in playing traditional games of chess, he came up with a twist: chess pieces filled with prizes. When you capture a piece, you get the prize inside.  Parents can customize the pieces, using stickers, M & M's, or beads. And WonderChess ($19.99), which can be played with kids 4 and up, has expanded to other games as well. WonderLetters is a Scrabble-style game, where kids make words, and prizes are hidden in the letters. WonderLetters ($24.99, for ages 6 and up), includes three Spanish letters, so you can play in English or Spanish.  The games are sold at Nordstrom, Wondrous Things, Pizazz, Borders and Mary Arnold Toys. (Review posted 5/07)

BABY ALIVE LIVES ON
   Many moms had Baby Alive when they were kids.  The updated doll, which eats (the special doll food she comes with) and poops, also talks — she tells her 'mommy' when to change her diaper.  Baby Alive is even available in a bilingual version.  Her huge eyes move, and she even wrinkles her nose when she makes a 'stinky'.  The doll, from Hasbro, is $49.99 at KB toys, for ages 3 and up. For more information, go to www.hasbro.com/BabyAlive. (Review posted 12/06).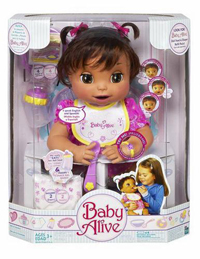 BUILDING BLOCKS
—Kids can learn about architecture and engineering while building.  The Bridge & Turnpike Tekton Truss Bridge set, for ages 8 and up, allows kids to construct bridges with hundreds of plastic pieces.  There are simple explanations of truss bridges (which are made from triangles), and the pieces are scale models of actual bridge parts.  Other sets include buildings, which can be combined to make cityscapes.  The manufacturer, Bridge Street Toys, is a true family business; Carol and Paul Flack, engineers, and their 10-year-old and 12-year-old children, run the company.   The bridge set is $42.95 at www.bridgestreettoys.com.  (Review posted 11/06)



—LEGO has added sound pieces to its Creator series.  The Revvin' Riders set can be used to make motorcycles and dirt
bikes, and the sound bricks make playing with the creations even more fun.  $19.99. For ages 7-12.  At www.lego.com. (Review posted 11/06)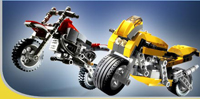 —Mega Bloks Pirates of the Caribbean: Black Pearl Ship Playset lets kids build and create scenes from the Pirates of the Caribbean movie.  There are cannons, (that launch), moving pulleys, and three action figures:  Captain Jack Sparrow, Cotton and Pintel.  For ages 6-14, $39.99 at www.amazon.com. (Review posted 10/06).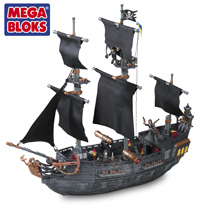 PERSONAL STORIES
   Cranium has a new Wonder Works line of toys that encourages creativity.  The hand-held Super Story Recorder, for kids 6 and up, lets youngsters create 15 stories along such themes as a surprise birthday party and an amusement park.  Kids record answers to simple questions — favorite color, name of best friend — which are incorporated into the stories.  If they get stuck, there is an activity wheel that offers suggestions — making funny sounds, recording stories in a high or low voice, drawing a picture to accompany a story.  Older siblings can record stories for younger ones, and parents can even create a quick story for a child.  $19.99 at Toys R Us or at www.cranium.com. (Review posted 9/06).
CALCULATING FUN
   Using flashcards to learn math problems may not be fun to kids, so Sharp's new Quiz Calculator is more enticing.  It is a regular calculator, but has an easy-to-use math drill, where kids can test their knowledge of addition, subtraction, multiplication and division.  It even looks snazzier than most calculators, in blue, with a large slanted screen. The Quiz Calculator is $11.99 at Circuit City or at www.sharpplace.com. (Review posted 9/06).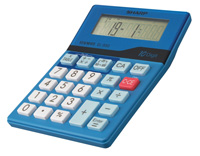 ALL DOLLED UP
   For girls who love to play with dolls, Fisher-Price's Little Mommy Play All Day Toddler Doll lives up to its name.  The doll, which speaks 30 phrases, also comes with snacks — a carton of milk and an apple slice with a bite missing.  And she is programmed to consider her young owner her mother, saying, "Mommy, I'm hungry," and making chewing sounds when 'fed' her sandwich.  There is a separate Activity Center that has a slide and art area, and, worth its weight in gold, a potty.  When the doll uses the potty (it flushes, and there is toilet paper and soap), the doll says, "I did it!"  The toddler doll is $34.99; the activity center is $49.99, both for ages 3 and up, at KB Toys.  For more information, go to www.fisher-price.com. (Review posted 9/06).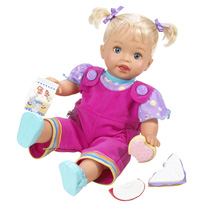 MUSIC

—Animal Crackers, Wee Hairy Beasties' first CD (Bloodshot Records), has odes to obscure animals, like "Cuttlefish Bone" and "A Newt Called Tiny".  "Housefly Blues" celebrates the blues, along with country and swing; instruments on this track include washboard, jug, kazoo and harmonica.  The musicians even adopt animal personae; Cyril the Karaoke Squirrel, who is married to Marjorie the Singing Bee; third member, Monkey Double-Dippey; and back-up musicians, Devil in a Woodpile.  The two dads in the group had their kids add background vocals. "Road Safety Song" is a great car singalong.  $15 at Borders and Tower Records, or www.bloodshotrecords.com. (Review posted 10/06)
—Learning to play an instrument can be a very expensive investment.  But there are cheaper ways to determine your child's level of interest.  Piano for Preschoolers is a program to teach kids piano, using a keyboard (or piano, if you have one) and color-coded keys. A songbook has the notes and the colors; you put a color strip over your keyboard.  New for the holidays, there is a Christmas songbook with seven songs, including "Jingle Bells" and "Silent Night". The original package, which comes with the 17-song book is $49.95; the new songbook is an additional
$19.95.www.pianoforpreschoolers.com. (Review posted 12/06)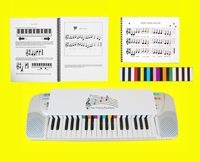 —I Can Play Piano, by Fisher-Price, also uses a color-coded keyboard, which is included in the $79.99 price.  This is for slightly older kids, for ages 4-8, and is more game-oriented.  You plug the keyboard into a TV and play games to learn music. What is particularly interesting here is that it really develops kids musically, eventually moving to black-and-white notes on a staff.  At Target and Toys R Us. (Review posted 12/06)

—Barbie has the Jam-With-Me karaoke keyboard for budding female pianists. It also has a cartridge that plays three songs, and produces song effects, from a snare or cymbal to organ or synthesizer.  There is also a microphone so kids can sing along.  From KIDdesigns, $99.99, for ages 3 and up.  (Review posted 12/06)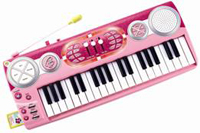 —The most complete learning system is Play Music Together ($39.95) from iPlay, software that you install on your computer (Mac or PC) to learn how to play guitar.  The software can be downloaded to a video iPod so you're not tethered to a computer.  (Review posted 12/06)

—There is another play to 'play' music — by listening to it. Disney has the new Mix Max, its own, less expensive version of the video iPod (with a control button shaped like mouse ears).  It is sleek and offers similar quality playback (but is not iTunes compatible).  Full-length movies are available as "Max Clips" memory chips (right now there are six movies, including High School Musical; the Mix Max holds up to 6 hours of video).  You can also play MP3 files, but you can't share the listening; there is only one headphone jack. Ages 6 and up, $159.99 at www.amazon.com. (Review posted 12/06)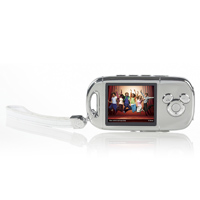 —Massively Mini Media from Tiger Electronics comes in different colors (a la iPod) and can play music or videos.  It holds an hour of video or two hours of music — or tons of photos, so it can also serve as a digital photo album.  Also not iTunes compatible, the mini has an FM radio, and kids can record songs from the radio to the device.  $79.99 at Kmart, for ages 8 & up.  You can download free videos at www.tigertube.com. (Review posted 12/06)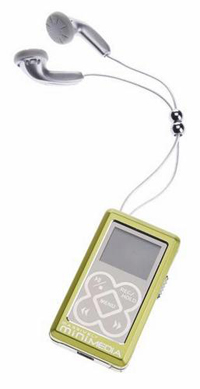 —The title of Kim Breden's brand-new CD, Picture This! Imagine That!, sums up her musical talents, creativity, and enthusiastic personality. She is a person who speaks with great warmth and energy, complete with exclamation points, and this all comes across beautifully on the album.  She has a lovely voice and is accompanied by one musician, the equally talented Joe Mennonna, plus a children's chorus; this is a standout album with great original songs kids will love. 
   In the liner notes, she explains how each song came to be.  The bouncy "What Do You Bring to the Pot? (What do you bring that no one else has got?") was inspired by a children's musical she wrote based on the folktale, "Stone Soup".  One summer day, she tried to rescue a tiny ladybug from the back seat of her car; the result is "The Ladybug Song" ("Oh, you cannot make a Ladybug stay/ No sooner there, she's on her way").  "Clean Up" is set to conga music and was inspired by her sister's seven children, all featured in the chorus.  "The Alphabet Picnic" uses bouncy Dixieland music to teach letters.    
   Email Kim Breden to order: [email protected] (Review posted 10/06)
FOLK FAMILY
   If you grew up with folk music and want to pass on that spirit to your children, Elizabeth Mitchell's new CD, You Are My Little Bird, is the perfect introduction.  She reinterprets such traditional songs as "Who's My Pretty Baby" (Woody Guthrie) and "Three Little Birds" (Bob Marley), while including original compositions.  What's more, her husband, Daniel Littleton, and 5-year-old daughter, Storey, contribute vocals and background instrumentals.  Mitchell, who was a NYC nursery school teacher, now lives in the Catskills with her family. $12 from Smithsonian Folkways Recordings, www.folkways.si.edu.  Also sold at Barnes & Noble. (Review posted 9/06).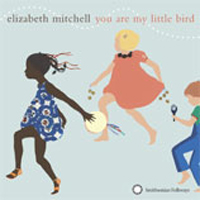 VIDEO GAMES

PATIENCE REQUIRED
   With Mattel's new video game system, HyperScan, came a great idea: combine two activities kids today love — trading card games and video games — into an all-in-one video game system that uses new technology called radio frequency identification  (RFID) to store information on character cards. Depending on how you play, these cards are upgraded or degraded with your character's skills and powers. Trade, save, or collect these cards and play with them again and again. Innovative and unique, yes, but practical and entertaining? That's up for debate.
   The problem is that HyperScan isn't hyper at all. The loading time is atrocious, taking 15-45 seconds before and after every game or scan. If your child doesn't get bored and lose interest before the game finally loads, try getting him to scan one of the cards — this in itself takes time and practice. When you eventually get to playing, the fighting gets interesting with X-Men characters that have spiffy powers like levitating, shooting big fireballs, or slashing opponents with Wolverine claws. Unfortunately, the moves and graphics closely resemble older, practically archaic games like Mortal Combat II and Clay Fighters, so the game itself really doesn't seem that new or innovative at all. The background scenery is 2-D and static, and the overall graphics seem sluggish and low-tech. So until Mattel's great idea gets rescanned and hyped up, to appear more like a 21st century video game with 21st century technology, keep saving your money for that new Nintendo Wii or an old GameCube.
   HyperScan is relatively cheap and portable — the system costs only around $70 and already comes with an X-Men fighting game, a rarity with other video game consoles.  Designed for ages 8+. (Review posted 12/06)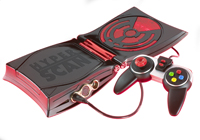 MOVIES / DVDs


ALL QUIET IN THE FOREST
   The award-winning children's book,
Stranger in the Woods
, by Carl Sams II and Jean Stoick, peeks though a camera lens into the life of winter forest animals, and the humans who peacefully encounter it. A new DVD,
Stranger in the Woods: The Movie
($19.95) combines the photography from the book with original winter forest film footage, giving a glorified reading of the book. The breathtaking winter wonderland and wildlife footage makes up for some embarrassing dialogue sequences, but the magic from the book doesn't quite transfer to the screen.
(Review posted 12/06).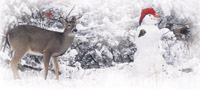 TECHNOLOGY

MULTI-TASKING
If you don't want to carry a digital camera, video recorder and video iPod, you can bring along the all-in-one Trio TV5.  This sleek device plays music, takes good quality digital prints and lets you capture short videos.  You can also load content that you've recorded to a TiVo or DVR.  There isn't a lot of built-in memory, but for $119 it is a great hand-held for the kids that gives many options.  From Mach Speed, at www.amazon.com. (Review posted 5/07)


CHILDREN'S BOOKS 

TODDLERS LOVE NY

   Kids love to re-live the familiar in picture books, and a new board book series lets toddlers explore their home town, or a vacation spot.  Good Night Our World books (Our World of Books, $7.95 each) started with Good Night Cape Cod, by author and publisher Adam Gamble.  Now he has expanded to 28 locations, including Boston, Philadelphia and Hawaii.  Good Night New York is Manhattan-centric, featuring Central Park, the United Nations and Empire State Building, but it also includes the Staten Island Ferry, Coney Island and Bronx Zoo.  The books, which progress from morning to night, also stress seasonality:  cherry blossoms in D.C., spring training in Florida, and an autumn sunset in Maine — a great way to introduce a new vacation destination. (Review posted 5/07)


Walter Wick, the photographer of the I Spy books, has a new book in his Can You See What I See? series.  Once Upon a Time (Scholastic, $13.99) takes 11 fairy tales, including The Three Little Pigs, Rumpelstiltskin, and Cinderella, and renders them in spreads where readers have to find objects from each story.  In a note at the end of the book, Wick includes information on how he puts together each story, building sets and models and photographing the result.  For those interested in his work, the New Britain Museum of American Art, in New Britain, CT has an exhibit, Games, Gizmos and Toys in the Attic, featuring 50 Wick works.  The exhibit runs through November 26, 2006; for more information, go to www.nbmaa.org. (Review posted 9/06).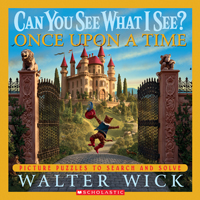 ANOTHER WAY TO TELL A STORY
   The Three Little Pigs is familiar to most kids, but Alex has a new way to look at the tale — a book which comes with a finger puppet glove. Kids can tell the story with puppets — and in this version, the second pig is female. Since the book is designed for kids ages 3-6, The Big Bad Wolf runs away and the "three little pigs danced and sang all the rest of the day."  There is a felt board at the end so kids can tell their own stories. $14.99 at Barnes & Noble, or at www.alextoys.com. (Review posted 9/06).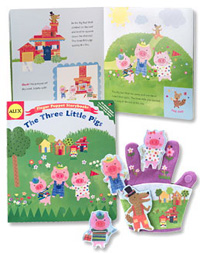 BOOKS FOR PARENTS

TOUGH LOVING
   Most seasoned parents would agree that raising teens is fraught with gut-wrenching conflict and hair-graying stress. But for some, whose teenagers' behavior becomes self-destructive and even life-threatening, it is a full-fledged nightmare. Such was the case for Jack Rosen, the Westchester father of two who relates his experience with his older daughter, Samantha, in his newly released memoir, Glass Half-Full: A Daughter's Journey though a Father's Eyes (iUniverse, $28.95). The book details Samantha's descent into intolerable conduct (including truancy and drug use, along with incessant lying and disrespect), her participation in a wilderness program in New Hampshire, and several years in a therapeutic boarding school in upstate New York.  Rosen's emotional honesty makes this a book that is both painful to read and hard to stop reading. Available at amazon.com.  (Review posted 9/06).