Theater camps are a dime a dozen in New York City, but
Camp Broadway
stands out, not least because its weeklong fees are exponentially higher than the others. But in addition, this performing arts camp, started in 1995, offers an authentic Broadway experience, with theater professionals and a Broadway rehearsal model complete with dance calls, chorus calls and scene study.  One day is spent on the set of a Broadway show, where campers meet the stage manager and costumer, see the show, and chat with the cast.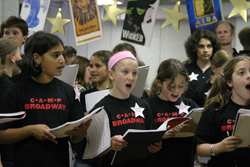 Their signature camp, for ages 10-12, includes master classes by Broadway artists.  The half-day program, for ages 6-9, adds mask making, storytelling, make-up, set design and costume design to singing and dancing.   Teens have two choices:  CB2, for ages 13-17, with voice, dance, movement, and solo and ensemble singing training; and Next Step, one-on-one training with Broadway teaching professionals for ages 14-18.  Throughout the year, Camp Broadway has other programs.  A new weekend intensive, Show by Show, gives kids a condensed version of the weeklong experience.  Starting Saturday morning, kids work on a show; on Sunday, they see a Broadway matinee, then perform for family and friends.
Camp Broadway offers in-school residencies and publishes a study guide series, StageNotes, which serves as a link between Broadway productions and schools. There are also traveling 'productions', offering the Broadway experience to kids around the country. And a recent partnership with the Royal Caribbean International cruise line provides a floating experience: Camp Broadway helped develop curricula incorporating musical theater for the onboard children's activity programs.
But as any future theater star knows, Broadway is the place to be. The theater professionals who teach at Camp Broadway change as actors get roles, but the impressive list includes Carol Channing, James Naughton and Rebecca Luker. Note:  if your child recognizes these names, proceed immediately to the website and download a camp application.  Says producing director Philip Katz, "There are lots of 'theater camps' but what separates Camp Broadway is that we open the door to the real Broadway experience."  For more information, go to
www.campbroadway.com
.