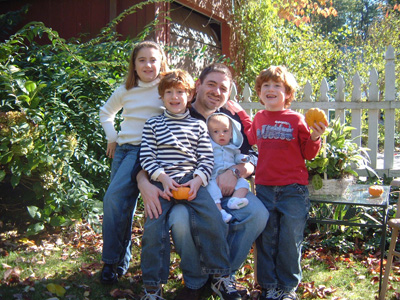 FUN WITH FOOD
Silly songs about food suffuse What's Eatin' Yosi?, the CD from New Jersey dad, Yosi.  The Israeli-born father of four sings about "Chicken Noodle Soup" – good for both the croup and nose goop and the gas certain foods cause in "Eat, Repeat", a song that features a chorus of burping dads.  Yosi wrote most of the 16 songs, but my favorite is a traditional Yiddish song, "Bulbes" (Potatoes).  Fellow father rocker Brady Rymer also sings "Fresh Brown Eggs".  And Yosi includes an homage to Arlo Guthrie in "Spaghetti Worms & Meatballs" – "You can get anything you want at Hannah's wildlife café…(except for Hannah)".  $15.99 at amazon.com and CDbaby.com.

BIG BAD BERNARD

There are many revisionist fairy tales where the Big Bad Wolf turns out to be nice, or misunderstood.  In
The Big Bad Wolf and Me
(
Sterling Publishing, $9.95
) a boy finds a wolf, which he mistakes for a dog.  The wolf has forgotten how to be scary, so the boy tries to teach him, while fattening him up on chocolate chip cookies.  Author/illustrator Delphine Perret has laugh-aloud throw-away lines; the boy wants to name the wolf Zorro, but the wolf says his name is Bernard.  "The problem is…Bernard is the name of my great-uncle — the one who smells like soap," the boy tells him.  The line drawings, particularly of the wolf practicing his scary faces, are priceless.  Ages 4 to adult.
LOOK ALIVE!
A dinosaur who bakes chocolate-chip cookies is the star of
Edwina:  The Dinosaur Who Didn't Know She Was Extinct
(
Hyperion books for Children, $16.99
), the latest picture book from the fertile mind of Brooklyn author and dad, Mo Willems.  One know-it-all, Reginald von Hoobie-Doobie, keeps telling everyone in town that dinosaurs are extinct; one day he hands out flyers "that made an excellent argument about how extinct dinosaurs are." On the next page, everyone is wearing the flyers because "they also made excellent hats."  Reginald finally convinces Edwina herself that she is extinct, but Edwina doesn't care, and Reginald gives up the fight.  Ages 4-7.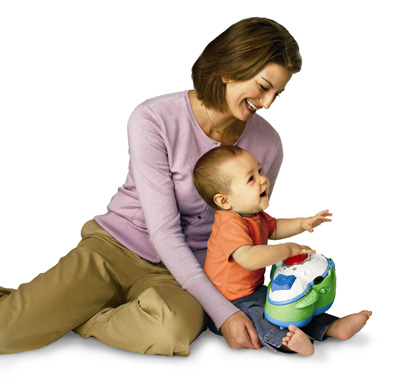 BABY CAN DO
     Babies may not be going back to school, but they are always learning.  A new interactive DVD/TV 'learning system',
Little Leaps Grow-with-Me
(
Leapfrog, $39.99
) offers educational play for babies and toddlers, 9-36 months.   In the 'baby;' mode, the parent sets up game play, which moves at a deliberate pace and includes live action and animation.  Babies just need to move the large colorful buttons on the wireless controller to move the game forward, learning about cause and effect, along with sounds and animals.  The controller flips over to a more advanced joystick for toddlers, who can learn about numbers and letter names.  Best of all, the games can be played in English, Spanish, French or German.  There are four DVDs that offer more games, including a baby disc that encourages motor skill development, and a toddler disc that focuses on matching, naming and making decisions.  At Toys R Us, Target and www.leapfrog.com.   
WINNIE TEACHES KIDS
     Slightly older kids can watch the new Winnie the Pooh educational DVDs,
Wonderful Word Adventure Shapes
and
Sizes
(
both from Walt Disney Home Entertainment, $19.99)
.  The 30-minute DVDs, for preschool and Kindergarten integrate early math and language concepts while staying true to the Winnie the Pooh characters.  In the
Shapes
DVD, Winnie can't keep different shapes straight, and he mixes up Rabbit's garden.  In
Word Adventur
e, Owl, who is always the wisest one in the Hundred Acre Wood, organizes races where Winnie and his friends have to figure out opposites.