Service dogs aren't just for the blind—they are more commonly being used to assist children with autism (and a variety of other disorders) in surprising ways.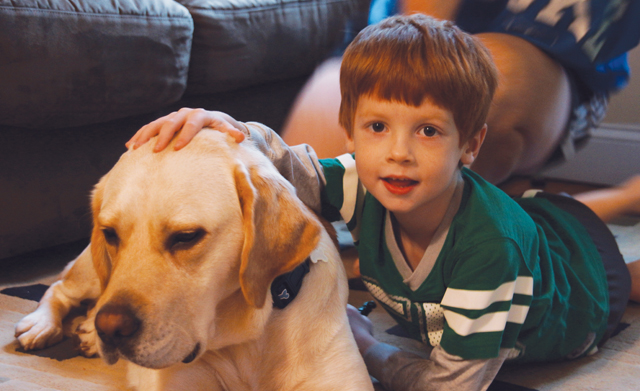 Jeanne Garske's son Chris was a typical boy growing up in Wantagh. He played sports, participated in numerous activities, and had many friends. Then, his epilepsy got out of control. He spent a tremendous amount of time in the hospital and missed several months of school. By the time he was finally able to go back, his friends had moved on. They weren't interested in spending time with a child who needed a one-to-one aide following him around.
Luckily for Chris—and Flap, his service dog—Garske met Gary Arnold, the CEO of Canine Assistants, at an epilepsy conference at NYU. Although Garske never considered that her son could be a candidate to work with service dogs, when she realized that the dog could double as a friend and companion, she was sold.
Research shows that pet owners are happier and healthier than those who don't own pets. Service dogs help in other ways. Service dogs, frequently labradors, also include German shepherds, border collies, poodles, and mixed breeds. Service dogs are bred to be calm. They don't react to extreme behaviors such as screaming, impulsivity, or aggression. Over the course of about two years, service dogs are taught to retrieve items, open doors, activate light switches, and pull wheelchairs as well as balance, brace, and perform other highly specialized tasks. Training costs alone can amount to in excess of $20,000.
"After speaking with the Arnolds about all of the things these dogs could do for people, the thing that got us was that these dogs are a friend and companion," Garske says. "We thought the friend, companion aspect of a service dog would be a wonderful thing for Chris."
| | |
| --- | --- |
| | |
| Tricia Zarro and son Danny, of Ossining, walk the beach with service dog Shade, who they received from Guiding Eyes for the Blind's Heeling Autism program. | |
Chris was 12 years old when the family applied for a service dog in January 2010. Service dogs were originally bred to guide the blind. Although most organizations will not place service dogs with children, children who receive service dogs do so if they have autism spectrum disorders, mobility impairments like cerebral palsy or muscular dystrophy, seizures, or diabetes, according to Autism Service Dogs of America.
Caroline Sandler, program director for Heeling Autism, says that service dogs primarily provide safety for kids with autism. Families are able to go on outings that wouldn't have been possible before, from dinner at a local restaurant to vacations to Disney World. In addition, numerous benefits have been reported in the areas of sleeping, eating, and peer interaction.
In the 23 years that Sandler has been a guide dog instructor and supervisor before moving into the autism field, she has seen that a dog's influence often extends far beyond the affected child, eliciting positive responses from siblings, extended family, and the wider community.
Flap has been a welcome addition throughout Chris's day. The federal Americans With Disabilities Act defines service dogs as those who help perform physical tasks that aid a disabled person. This has given the dogs full access to public places, including restaurants, stores, and transit hubs. Although schools are not required to allow dogs access, Garske's family has gotten lucky. The school not only allows Flap to attend classes, it provides an aide for Flap during Chris's gym class. Flap has provided relief for school officials and children, too. Thanks, in large part, because Chris can have a seizure without others knowing it.
| | |
| --- | --- |
| | |
| Adalyn's Clare (AAPC Publishing; $16; bn.com) is based on author Kari Dunn Buron's dog Clare, a trained therapy dog that helps children with autism become more social. Told from both Adalyn and Clare's perspectives, the story helps children in third through sixth grades understand what it is like to have social anxiety and how therapy dogs help children on the autism spectrum. | |
"It's much cooler for a teenage boy to have a dog instead of a middle-aged woman following him around! It's also helped him to be more independent because he has to make sure the dog is cared for, especially when he's with him all day in school."
It hasn't always been easy. Most organizations have long waiting lists for their services, Sandler says. And, it's important for parents to understand that a service dog is never a "quick fix," she reiterates. Success is dependent on a lot of hard work—much of which occurs in the home after receiving the dog. Parents have to spend time helping their children train their dogs and teach them to care for the animals as well. Garske, for one, says it's worth it.
"I came into this knowing it would change my son's life. I never imagined what it would do for me," Garske says. "Having a child with epilepsy is extremely stressful. We never know when he will have a seizure. My son's seizures are complex partial seizures (he is walking around but is unconscious) so every moment he's not with us I'm on edge just waiting for that phone call."
Since Flap arrived, that's changed. Garske knows that if Chris has a seizure, he has someone with him that loves him. After a seizure, Chris reaches for his dog for comfort.
"It has been a huge weight lifted off me to have some of the stress taken away," Garske says.
For more information visit Autism Service Dogs of America, Canine Assitants, and Heeling Autism.