Back-to-school shoppers can help a worthy cause: During Macy's annual Shop for a Cause program on August 27, in-store and online shoppers can save 25 percent on their purchases when they donate $5 to the March of Dimes.

On August 27, Macy's shoppers can save 25 percent on most of their back-to-school purchases and help a worthy cause at the same time.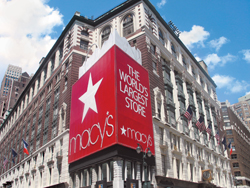 The March of Dimes, the leading nationwide nonprofit organization for pregnancy and baby health, is the exclusive national beneficiary of Macy's annual Shop for a Cause program this year. This unique program provides customers two good reasons to shop at all Macy's stores across the country -- to save money and babies.
For $5, customers can purchase a savings pass that offers 25 percent off most regular, sale, and clearance purchases at the store or online all day on August 27. (Some exclusions apply.) Macy's will donate 100 percent of the $5 cost of the savings pass to the March of Dimes to help give more babies a healthy start in life.
"This sale provides great savings to families like ours who are always looking for a smart way to spend," said Nikki Fleming, mother of March of Dimes 2011 national ambassador Lauren Fleming. "Moms and dads are going to be shopping for school clothes and other necessities around this time and these savings passes show Macy's corporate responsibility to the community and their support for families."
The $5 savings passes can be purchased online directly from the March of Dimes beginning today.
Also beginning today, customers can purchase the pass at any Macy's store or online at Macys.com.
This is the 6th annual Macy's Shop for a Cause charity shopping event that has raised more than $38 million for charities across the country since 2006. However, this is the first year that the March of Dimes is the sole national beneficiary of the program.
"Macy's is committed to giving back to our communities," said Martine Reardon, Macy's executive vice president of marketing. "We are proud to offer our customers an easy way to support the March of Dimes while enjoying great savings at Macy's through our annual Shop for a Cause program."