Hollywood mom
Joely Fisher
could probably take her daughters to New York City any time she's not shooting her sitcom, 'Til Death.  But she chose to bring her family with her to New York recently to celebrate the launch of a partnership between Kids Care Clubs and Quaker, and to chat with senior citizens and the kids who had prepared gift bags for them at the Kateri Residence on the Upper West Side.
   Fisher, the daughter of singer Eddie Fisher and actress (and Brooklyn native) Connie Stevens, is following a family tradition in both career and community service.  Her mom is still an avid volunteer who drove a motor home to Louisiana and Mississippi and cooked food for victims of Hurricane Katrina.  So helping others is ingrained in Fisher's psyche. As for her children, Skylar, 6, and True, 18 months, she says, "I am hoping and praying that at least some of it rubs off." But Fisher is doing more than hoping. She is leading by example.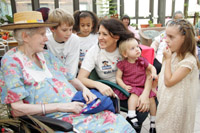 Fisher has been volunteering almost her whole life, and started her children off early, too.  When Skylar was just 11 months old, mother and daughter toured U.S. army bases to visit the troops. "I believe you have to show a child by example," she says. 
   But she shies away from the word 'charity', which she feels has a negative connotation.  "Sharing yourself is part of being human,'' she believes.  "My mother instilled a respect for humanity in my sister and me." The children involved with the Kids Care Club in New York were inspirational to her own girls, she adds.
   Part of the reason Fisher brought her kids to New York, she explains, is that while "I understand the need to be away from my kids, I have never left them for more than a day."  Her career choices are based on her desire to spend as much time as possible with her children.  She is grateful for the "civilized" hours of sitcom work and laments their scarcity, noting that she feels lucky to have secured one of the few remaining half-hour shows.
   Quaker is promoting Kids Care Clubs by including information on Quaker Chewy granola bars; boxes are on shelves now.  At the new website,
www.quakerkidscare.org
, families can learn how to start or join a Club — there are already over 1,400 across the country, with 75,000 kids ages 5-14 taking on various community service projects.  Kids Care Clubs have raised money to buy necessities for kids in foster care, performed for residents of nursing homes, planted trees, and sent 'soldier care packs' to troops overseas.
   The website also offers project ideas; every month, there are different volunteer project suggestions, with step-by-step instructions.  Quaker offers donations of its products to certain projects.  Moms can get involved, too, through the Quaker Moms Care network, which shares stories of volunteer groups around the country.