Where can you take the kids to see boats bobbing on water, filled to the brim with vegetables made of glass? Or to see kites a-flutter, indoors and out?

This is the month to see some special visual fantasy shows. Catch the kites in Manhattan and Queens before they fly off, and make a date to head to The New York Botanical Garden for the must-see Dale Chihuly show.

BEAUTIFUL THINGS IN THE BRONX
Master glassblower Dale Chihuly has his first New York-area installation through October 29 at The New York Botanical Garden. This is a must-see event. The Garden itself is a landscaping masterpiece; Chihuly's installations have turned it into a true visual paradise. The Sun sits in the Reflecting Pool, a burst of over 1,000 pieces of hand-blown, twisted and woven, yellow and orange glass. Garden Grass spikes in bright blues and greens appear planted by a gardener in a fairytale. Sparkling blue balls and spikes adorn the entrance to the Rose Garden. The artwork is dotted throughout the Garden's 250 acres, with good directional signs; kids will love following these and then coming across the fantasy forms. Pick up a map when you arrive — a Chihuly walking path is clearly marked.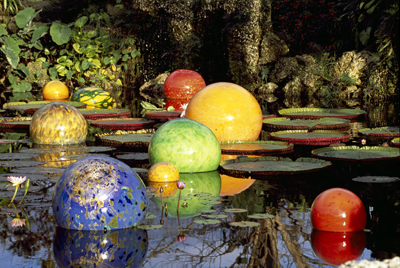 Don't miss the Conservatory, right near the entrance to the Garden, where there's a cornucopia of glass delights. Abstract fantasy flower forms peep out from behind plants inside; outside, the artist has stocked the lotus ponds with swirled balls that bob among the wooden boats filled with bright and sparkling vegetables. It is a sight to behold!
The entrance walk to the Everett Children's Garden includes more Chihuly-spotting. On hot days, kids can run under the sprinkler in the Children's Garden, or cool off indoors in the Kids Lab, where they can look at bugs under microscopes, or learn about butterflies or beekeeping. Or they can get involved in arts and crafts projects, like making bug antennae headbands, in the Kids Herbarium.

Info:
When: The Garden is open year round, Tuesday through Sunday, and Monday federal holidays, 10am-6pm through October, till 5pm November-March.

How much: The Garden is advising advance purchase of timed tickets for the Chihuly exhibit ($20 adults, $18 students/seniors, $5 ages 2-12), but on a July Sunday, it was not crowded at all, and parking was easy on the grounds. Purchase at the gate, or call same-day to see if tickets are available: (718) 817-8700. Go to Ticketmaster to purchase advance tix: www.ticketmaster.com; (212) 220-0503. Parking: $13; valet, $20.

How to get there: The Garden website gives driving directions. Metro-North also stops right at the Garden entrance; it's a 20-minute ride from Grand Central. Combo tix (train plus Garden admission) are being offered at a 10 percent discount; www.ticketmaster.com.

Note: Despite its lush vegetation, much of the Garden's walking paths are in full sun. Bring water bottles and face spritzers on hot days. You can hop on and off the Garden tram traveling among the Chihuly installation spots. Strollers are allowed everywhere, except in the Conservatory. There is a restaurant and a café.

KITES, INDOORS …
From master glassblower to master kite maker … head to the Winter Garden downtown in the World Financial Center for Starry Sky, the installation by Taiwanese kite maker Buteo Huang, who has strung up 307 handmade kites, the largest amount ever in North America. You'll crane your neck to take in his mass of birds, fish, and swirly shapes, floating in the Atrium's dome and high above a canoe suspended 25 feet above the ground.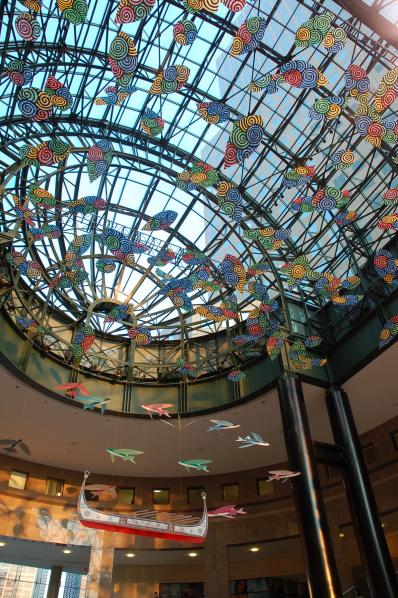 This installation is in place only through August 19, 2006. Admission is free; just enter between 9am-11pm daily. For information, call (212) 945-0505 or access www.worldfinancialcenter.com.

… AND ON THE BEACH
Make your way to the Rockaways the weekend of August 19 and 20, 2006, for The New York Kite Festival, which will take place from 10am-4pm at Jacob Riis Park Bay 9. Kites will dance in the sky to orchestrated music; spectators will be awed by thrilling kite flying competitions; and a Kids Kite Camp will hold classes for children to design, create and then help decorate the sky with their very own colorful creations. Live entertainment will be presented throughout each day for both kids and adults.
The festival is free, and will take place rain or shine. Further info: The Rockaway Chamber of Commerce; (718) 634-1300.