You may not know the name (yet). But Marion LoGuidice (pronounced Lo-Jude-iss) is a singer/songwriter with a loyal following. Cyndi Lauper says of her: "I am convinced that Marion is the real deal… Her melodies are hauntingly lyrical; her stories street-wise, passionate and truthful. Her performance kept me on the edge of my seat."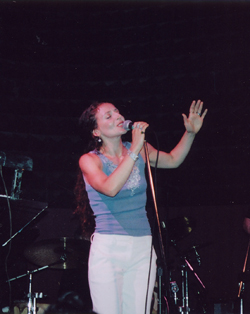 LoGuidice's next New York City performance is at Joe's Pub on Friday, December 1. Not a shabby venue for someone who didn't get into the performance business till recently, when she was close to 40 and well into raising her daughter.

LoGuidice grew up in Island Park, Long Island. She was attracted to songwriting in her 20s, but quickly gave those dreams, noting that she was "filled with too much insecurity to keep it going." It was, she says, "just me in my late 20s getting crazy with some song-writing idea…"

In her 30s, LoGuidice married, taught yoga, and gave birth to her daughter, now 9. Whatever she had been searching for seemed to recede, she recalls. But after a period of what she describes as "nursing and sitting in sandboxes surrounded by Sesame Street and sucking, "the need to rekindle myself took over." She rented a small studio on West 72nd Street for $25 an hour, where she went to be alone and "shake something loose" by listening to tapes of African drummers, and dancing barefoot and blindfolded. Strange as that sounds, she met a mother in the sandbox who wanted to join her — and within a month, there were 25 barefoot moms dancing blindfolded to African music. It was a powerful experience, she reports.

Finally, one evening very close to her 40th birthday, "eating Cheese Doodles and watching TV," she saw a woman being interviewed who had written a hit song for someone else, but now was singing it the way she wanted. The next day, LoGuidice got out her old electronic keyboard and started writing songs.

Four months and 20 songs later, she got up the nerve to call Larry Saltzman, a musician who had worked with Simon & Garfunkel, whom she had met but barely knew. "I wrote all these songs, and I want to play them for you," she told him. He replied: "Now you have to get them down, in the studio." LoGuidice went into the studio, just planning to document the songs for her daughter; when they were finished, she had a CD titled Mother Wheel, and Saltzman was urging her, "Now you have to perform."

Her first gig was "in a tiny venue off Avenue A, on the worst night of the week, in the worse time slot," and, triply worse, during a huge snowstorm. "I had a hat on, and my eyes closed through the whole performance — that's how scared I was," she remembers.

As fate would have it, Cyndi Lauper was in the audience, as was Jeanine Tesori, who was composing music for a show with Tony Kushner at the Public Theater. Tesori told her, "Call me on Monday, I'm going to take you down to the booking agent at Joe's Pub." The rest, as they say, is (very recent) history. In addition to regular showcases at Joe's Pub, LoGuidice was recently chosen as a Top Pick at the prestigious South By Southwest Festival in Austin, TX.

With an equal mix of faith and awe, LoGuidice remarks on her unusual trajectory, "I was getting a lot of validation," but insists she had "set the bar so low, everything was a success." Her voice has been described as "healing, with a great sense of melody," and is complemented by her first-rate band (musicians who have played with Simon & Garfunkel, Bette Midler, Jewel, David Johansen, and David Sanborn). Fans will be pleased to learn that LoGuidice is completing her second CD now, a collection she feels reaches levels musically.

She aims, she says, to share her "deepest joys and sorrows in an effort to get to the heart of the mysteries that make us all human." Her musical poetry is evident in the song Mountains:

I gather mountains in my mind my child
So you will carry hope inside your eyes
And I will show you the many ways to climb
And when it's time for you to let go I know that you will fly…

More info on Marion LoGuidice can be found at: www.marionsmusic.com.