Once hotly debated, strength training for kids is now considered safe and even essential to children's health, according to the latest research.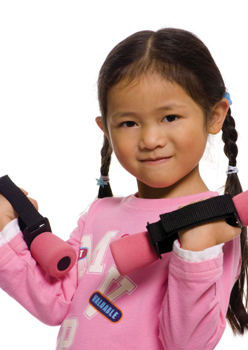 When it comes time to show your kids how to safely engage in physical activity, whose lead should you follow? In New York City, one in five kindergarten students is obese. Nearly half of all elementary school children are an unhealthy weight. But there are conflicting messages about how to incorporate the recommended hour of daily physical activity into children's lives. Strength training, which is among the best way for adults to boost their metabolism, has always been hotly debated when used among children.
That's changing. Research published in the November issue of Pediatrics, coupled with a growing body of evidence, shows that strength training is not only safe for young people, but may be considered beneficial or even essential. The most recent research, which involved analyzing 60 years' worth of studies, showed that strength training exercises helped children grow stronger, especially when they trained at least twice a week for a month.
"Strength training has been shown to have numerous positive health benefits including muscular strength and endurance gains, improved body composition, decreased chance of injury, and improved sports performance," says Tom Holland, the owner of The Tom Holland Athletic Club in New Canaan, Connecticut.
Still, the research doesn't give parents with dreams of their children becoming the next Mr. Universe carte blanche to enroll their children in intense weight-training courses. Instead, area experts agree that parents and fitness professionals must work together to make sure children who begin strength training, which may include lifting weights and other activities, are kept safe.
Safe Lifting
Before beginning any strength training program, children should have an orthopedic exam. Children who have muscle deficiencies will be given exercises to strengthen their weaknesses before further strength training begins, says Hans Hageman, the owner of New York's Brownstone Fitness and a USA Weightlifting Sports Performance Coach. In the absence of a formal exam, children must be able to complete basic motor and coordination skills.
Once a doctor approves the strength-training routine, parents should look for a personal trainer or coach who will work well with their children. Ideally, the trainer will have a history of working with children, with at least one certification from a nationally recognized organization such as the National Strength and Conditioning Association or the American College of Sports Medicine. Some trainers may have a degree in an exercise-related field like kinesiology, physical education, physiology, or exercise science, Holland says. Others may have taken continuing education classes about working with children. Parents may also watch the trainer lead one of his training sessions to get a better understanding of his mannerisms and whether he'll work well with a particular child. Holland encourages small classes with no more than 10 students per instructor. The group should be smaller if the children participating are especially young or are taking part in an introductory-level course.
During introductory courses for young children, boys and girls will likely work in a combined class and, if necessary, they'll be separated by age and ability. It's unlikely that children will actually lift weights. Instead, they will probably begin with basic exercises like squats, lunges, sit-ups, set-ups, bear crawls, crab walks, and push-ups. Children may also complete obstacle courses or rope pulls. As children gain strength, they may start to use resistance bands or tubes and medicine balls in various exercises, including partner activities. Later, when they begin to use weights, the instructor may show them how to complete bench presses or rows using broomsticks or PVC pipes until they have mastered the proper technique for each exercise. Instructors should make sure children are using the full range of motion with each exercise and keep their joints at appropriate angles to avoid unnecessary stress. This way, children will avoid bad habits that can be harmful and lead to muscle imbalances, soft tissue, and repetitive-use injuries.
Although some of these measures may seem extreme to adults, there are many reasons to be especially careful when working with children. Growing children have bodies that are still maturing, learning coordination, and developing basic movement patterns. Others are still becoming aware of their bodies, which limits the amount of weight they can lift. Still, when children begin lifting weights at young ages, they learn how to recruit muscle fibers, which allows them to become stronger. Those who participate in other sports can correct muscle imbalances and protect their joints from injury throughout their athletic careers.
"What many people fail to realize is that the loads placed on the joints from the running, jumping, and cutting required in sports like basketball and soccer place greater and more uncontrolled loads on children's joints than a properly supervised weight lifting program," Hageman says.
Also see: "Power" Drinks and Supplements: Are They Harmful for Kids?
It's (Just?) a Game: How to Put the Fun Back into Youth Sports