Check out some noteworthy products on our radar for children and families, including eco-friendly shoes, a safer infant car seat, and an easy language guide for overseas travelers of all ages.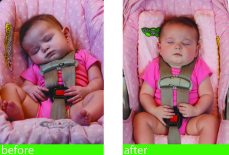 Safer Car Seat Sleep
There's nothing worse than finally getting your baby to sleep on a long drive and then glancing back to see her head slumped to one side. You would like to let her sleep, but know you must disturb her to ensure proper breathing and avoid neck pain. The Snuggin Go helps moms steer clear of this dilemma. Its design and adjustable base bar keep baby's head upright to ensure a clear air passage and keep baby breathing easily. It comes in a variety of colors and patterns, and is machine washable. Snuggin Go accommodates newborns from 4 pounds to 1-year-olds.
Best Feature: Snuggin Go also works great with strollers, high chairs, and bouncy seats.
Price: Starts at $34.95
Available at: www.snuggingo.com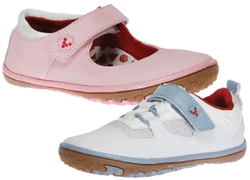 Summer Shoes
When the dog days of summer hit, kids want to run around barefoot. That's not the best choice for modern day life and sandals can cause kids to trip while they run, so the new Terra Plana VivoBarefoot Kids line is a nice compromise. Created in collaboration with footwear technologists and podiatrists, these shoes are lightweight and flexible. Developing feet, with a high proportion of cartilage and other soft tissue, can be deformed under the pressure of rigid shoes. These shoes are also eco-friendly and come complete with an eco-matrix, which show the environmental components of each shoe.
Best Feature: Shoes provide added protection with a thin puncture-resistant sole.
Price: Starts at $60
Available at: www.terraplana.com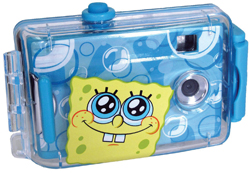 Picture Perfect
It may not be Bikini Bottom, but your pool can provide an underwater adventure with Nickelodeon's new SpongeBob Underwater Camera. This digital cam stores up to 125 pictures. Kids can take full charge as photographer with easy to use equipment such as a USB cable for simple computer download, and SpongeBob Snap Shots CD ROM software that lets kids write stories, play games, and create albums. Please remember that any poolside fun requires parental supervision.
Best Feature: Zany underwater photos are sure to be keepers for years to come, and the camera comes with a case that is waterproof up to 30 feet.
Price: $29.99
Available at: Toys "R" Us stores and www.toysrus.com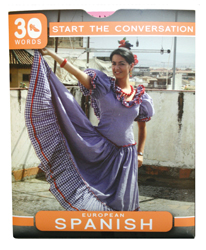 Speed Talk
You might be surprised to learn that most of the communication you'll need on your overseas summer vacation consists of just a few simple phrases. The 30 Words Language Guides give users over 800 key words and phrases commonly used in a particular language. The front of this pocket-sized guide contains words for transportation, accommodation, and cuisine. The back helps travelers create sentences easily and quickly, and includes phonetic pronunciation. Languages include Spanish, French, German, Italian, Mandarin Chinese, Arabic, and more.
Best Feature: Since the guide is waterproof and tear resistant, it will survive swimming and even machine wash.
Price: $8.95
Available at: www.30words.com