By land (outdoor concert, anyone?) or by sea (canoeing time!), local parks provide an array of family options this season.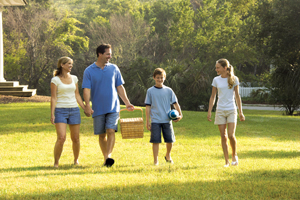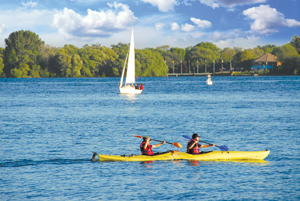 New York City parks are gearing up for a season of family-friendly events and activities. Whether you want to enjoy an afternoon of mini golf, attend a concert under the stars, or simply have an old-fashioned picnic, the city's green spaces have plenty to offer. If you prefer to cool off around the water, choices include fishing and boating. Here's what's happening at select parks throughout Manhattan, Brooklyn, and Queens: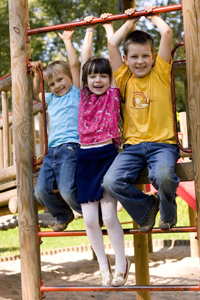 Manhattan
Battery Park
Battery Place and State and Whitehall Streets
www.nycgovparks.org/parks/batterypark
Originally the U.S.'s first immigration depot, Battery Park is home to flower gardens and a waterfront park. Ferries dock at its shore to pick up visitors to the Statue of Liberty and Ellis Island, and kids can enjoy a few playground areas. Outdoor summer concerts will be offered, including a 4th of July Concert and Family Festival at 2pm. See website for more shows.
Bryant Park
Behind the New York Public Library between 40th and 42nd Streets and Fifth and Sixth Avenues
Located in the heart of midtown, Bryant Park offers the great lawn for relaxing and picnics, as well as a dedicated ping pong and chess area. Kids will love the Le Carrousel (rides are just $2) and the free HBO Bryant Park Summer Film Festival every Monday evening. The park also provides indoor activities for when the weather is too hot. Word for Word Kids workshops, in the Bryant Park Reading Room, are for kids who love to write; it kicks off on June 19 and runs through mid-August.
Central Park
60th Streets-110th Streets
212-534-7639
www.centralpark.com, www.centralparkzoo.com, www.summerstage.org, www.victoriangardensnyc.com
The city's most famous park has an array of attractions for families, from the carousel to the iconic Alice in Wonderland statue (great photo ops!). Did you know there's a swimming pool (mid-park between 106th and 108th Streets)? Victorian Gardens, a mini-amusement park in Wollman Rink (open May 29 through mid-September) admits kids under 36" tall for FREE with an adult ticket. SummerStage offers FREE outdoor concerts, live comedy, at Rumsey Playfield, June 5 to August 15. The Loeb Boathouse also offers bicycle rentals for $9-$15 per hour. Call 212-517-2233 for more information. The Zoo and Wildlife Center is home to 1,400 mammals, birds, reptiles and amphibians. Check website for feeding schedules.
High Line Park
Above 10th Avenue from Gansevoort Street to 20th Street
212-500-6035; www.thehighline.org
This elevated park above Tenth Avenue opened Section 1 in June 2009. Section 2, which will extend to 34th Street, is slated to open in 2011. Running above the streets, the walking path of High Line Park gives a variety of views of lower Manhattan. Every Tuesday at dusk Astronomy on the High Line lets you view the stars using the Amateur Astronomers Association (AAA) of New York's high-powered telescopes. Wild Wednesdays are an opportunity for kids to participate in nature-based activities every last Wednesday of the month. Other children's classes are also offered.
Riverside Park
Hudson River, between 72nd-158th Streets
www.nycgovparks.org/parks/riversidepark
Regarded as Manhattan's most spectacular waterfront park, its four-mile stretch offers athletic fields, a skate park, and Manhattan Waterfront Greenway for bike riding. Visit Dinosaur Park, home to two fiberglass dinosaur sculptures. The playground has swings for toddlers and older children, a spray shower, two sandboxes, and climbing equipment.
Brooklyn
Brooklyn Bridge Park
Main and Plymouth Streets
Located in Dumbo, this park along the Brooklyn waterfront offers spectacular views of downtown Manhattan and the harbor, plus a free summer outdoor movie series, Movies with a View, including many kid-friendly choices. Every Thursday night in July and August.
Carroll Park
President Street and Smith Street
The Carroll Park recreation area in Carroll Gardens is home to two playgrounds for kids, basketball and bocce ball courts, sprinklers, and picnic tables. All summer it hosts children's concerts including: Bubble Do Beatles Unplugged (June 13), Randy Kaplan (July 18), Uncle Rock (August 4) and Aura Rox (September 9). 4:00 pm, weather permitting.
Fort Greene Park
Myrtle Avenue, Cumberland Street and Dekalb Avenue
www.fortgreenepark.org; www.nycgovparks.org
The historic Fort Greene Park, originally a site of forts built for the Revolutionary War and the War of 1812, offers a variety of family activities. Enjoy playgrounds, basketball and tennis courts, barbecue areas and outdoor events including scavenger hunts for kids. Music in the Grove, a series of eight children's concerts, is offered Wednesday mornings mid-June and through mid- August.
McCarren Park
www.freewilliamsburg.com/h2oshows
Nassau Avenue, Bayard, Leonard and North 12th Street
This 35-acre waterfront park in Greenpoint is home to McCarren Pool, the site of Sunday pool parties and summer concerts. Families can also enjoy athletic activities including kickball, soccer, baseball, bocce, handball, basketball, football, tennis and running meets.
Prospect Park
Borders several neighborhoods in Brooklyn; www.prospectpark.org
The 585-acre Prospect Park offers a huge array of outdoor activities for families. Attractions include Wollman's Rink, Prospect Park Zoo, Lefferts Historic House, the ever-popular Long Meadow, a lake and protected forest area, several playgrounds and a carousel. This park's nature-related tours and programs, particularly those at the Audubon Center, are ways that your child can learn about nature in your own urban backyard. Celebrate Brooklyn at the Prospect Park Bandshell offers outdoor music concerts, dance, spoken word performances plus films. Opening day is June 9. For a full schedule, go to www.briconline.org.
Queens
Alley Pond Park
Bordering Douglaston and Bayside

This park's natural features include freshwater and saltwater wetlands, tidal flats, meadows, forests, amidst a diverse ecosystem. Also: an environmental center offering guided hikes and nature-themed activities for kids, playgrounds, and athletic fields. The Alley Pond Adventure Course has a ropes course open to families with kids ages 8 and up Sundays through November at 1:30pm. Arrive half-hour before session to register.
Cunningham Park
Bordering Fresh Meadows, Jamaica Estates, Hollis Hills, Holliswood, and Oakland Garden
718-217-6452; www.nycgovparks.org/parks/cunninghampark
One of the largest parks in Queens, Cunningham Park features facilities for athletic leagues including baseball, soccer and cricket fields, basketball, tennis, bocce and volleyball courts, as well as hiking trails and barbecue facilities. The Big Apple Circus will be here from June 2-6. Call 800-922-3772 for tickets and show information. The New York Philharmonic also performs a free outdoor concert on July 15 at 8pm, followed by a fireworks display.
Flushing Meadows Corona Park
Flushing
718-760-6565; www.nycgovparks.org
Home to CitiField and the NY Mets, the USTA Billie Jean King Tennis Center, the Queens Museum of Art, Queens Botanical Garden, Queens Zoo, Queens Theater in the Park, and The New York Hall of Science, this iconic park spans 1,255 acres. The grounds include two lakes, numerous athletic fields, picnic areas, a carousel, six playgrounds, and an 110,000-square-foot Aquatic Center with an Olympic-size swimming pool and skating rink. Each August, as part of the U.S. Open held at the USTA Billie Jean King Tennis Center, Arthur Ashe Kids' Day has interactive games, live music, and meet-and-greets with tennis stars. This year it will be held on August 28. For live theatrical theatre performances by Queens Theatre in the Park, check the summer schedule at
www.queenstheatre.org.
Forest Park
Bordering Richmond Hill, Kew Gardens, Forest Hills, Glendale, Woodhaven
718-235-0815; www.nycgovparks.org
Spanning more than 500 acres, the park boasts hiking trails and horseback riding on its eastern end, while the western end caters to sports and music enthusiasts. Athletic facilities include baseball fields, tennis and bocce courts, and a 110-acre golf course. FREE outdoor concerts are offered at The George Seuffert, Sr. Bandshell. Teach the family ballroom dancing during Dancing Under the Stars. Every Monday, June 7-July 19. FREE. 718-235-4100. Children's Performances: On Select Wednesdays. Call 718-235-4100.
Hallets Cove Playground
Long Island City
www.nycgovparks.org/parks/Q226
This year-round playground offers two sections of play equipment as well as handball courts.
Kissena Park
Flushing
www.nycgovparks.org/parks/kissenapark
Home to Kissena Lake and a historic tree grove where species include familiar weeping willows and other shady trees perfect for lounging beneath with a book, in addition to some of the most exotic varieties in the world. Families can go biking on the Kissena Velodrome, the city parks department's only cycling track, or hang in the playgrounds, on the ball fields, or tennis and volleyball courts.
Michaelis-Bayswater Park
Beach Channel Drive, B 32 St, Dwight Avenue, Norton Avenue, Far Rockaway
www.nycgovparks.org/parks/Q007
This park and recreation center offers climbing equipment, a playground for kids as well as several athletic facilities. Enjoy basketball, tennis and handball courts. School's Out For Summer celebrates the beginning of the season with music, games, ranger-led programs like canoeing and refreshments for kids 8 and older on June 27 from noon-3 pm. For canoeing, register at www.nyc.gov/parks/rangers/register.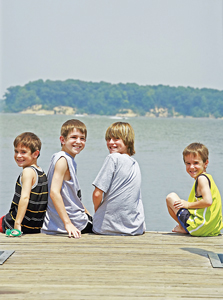 Manhattan
Riverside Park
Hudson River, 72nd-158th Streets
www.nycgovparks.org/parks/riversidepark
Kayaking on the Hudson is available every weekend during the summer, weather permitting, at the Downtown Boathouse. Includes a 20-minute instructional and paddles. Participants must wear a bathing suit or shorts and a T-shirt, and know how to swim.
Brooklyn
Brooklyn Bridge Park
1 Main Street
718-802-0603; www.brooklynbridgepark.org
Brooklyn Bridge Park's seining activities invite participants to net for fish in the East River and then identify them with the help of experts from the Coastal Marine Resource Center.
Prospect Park
Prospect Park West
718-965-8999; www.prospectpark.org
Pedal boats can be rented at Prospect Park's Wolman Rink during warm-weather months. The boats rent for $15 an hour, from Thursday-Sunday and holidays through mid-October, 12-6pm. Electric boat tours depart from Audubon Center every half hour. The 25-minute tours run Thursday-Sunday. Hop aboard the park's electric boat, Independence, for a mellow 20-minute tour. Catch-and-release fishing is also available. The park's lake has the largest concentration of largemouth bass in the state. Children age 15 and under can fish without a license. From July 14-18, the park hosts an annual fishing contest for kids 15 and younger. Free fishing poles and educational workshops are available.

Queens
Flushing Meadows Corona Park
Flushing
718-760-6565; www.nycgovparks.org
The 93-acre Meadow Lake is the city's largest lake and a popular spot for fishing and sailing. It is also the location for the annual Hong Kong Dragon Boat Festival, this year on August 7 and 8, 9am-5pm.
Fort Totten Park
Cross Island Parkway, Totten Road to 15 Road, Bayside
718-224-4031; www.nycgovparks.org/parks/forttotten
This pristine stretch of land surrounding a preserved Civil War Fortress attracts not only history buffs and sunbathers, but is a nice destination for canoeing on the Long Island Sound. Closed on Wednesdays.
Kissena Park
Oak Avenue and Hempstead Turnpike, Flushing
www.nycgovparks.org/parks/kissenapark
Kissena Lake is home to a wide variety of plant and animal life, including snapping turtles, ducks, herons, egrets, and gallinules. This Father's Day, June 19 at 10 am, Kissena Park will host Father's Day Fishing with all equipment provided on a first-come, first-served basis. For canoeing, register at www.nyc.gov/parks/rangers/register on June 16.
Long Island City Community Boathouse
45-0 5th Street, Long Island City

Enjoy free kayaking and canoeing on the East River all summer. Volunteers are on hand to assist newcomers in navigating the quirks of East River currents, and to provide some education on estuary ecology. Boaters can either challenge themselves to an adventure tour or are free to take part in a "chill paddle," where relaxing and taking in the skyline view are the priorities.
For information on how to obtain permits and licenses, visit www.dec.ny.gov.
Find more parks and water fun in the New York metro area:
Rockland, Westchester, and Fairfield Counties
Nassau and Suffolk Counties, Long Island