Summer fun can wreak havoc on kids' delicate scalp and hair. Chlorine binds to the hair, filling in gaps in the shaft — making hair dry and discolored.  Mineral deposits in salt water can make hair brittle. And with over 12 million cases of head lice each year, those little critters can ruin the fun for everyone! Fairy Tales Hair Care offers these tips to help make summer hair care a breeze: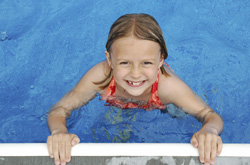 1. Start the summer with a great haircut.  Trim off all dead ends and shape accordingly.
 2. Use a conditioner every day.  A light, leave-in conditioner will help restore moisture all day long.
 3. For avid swimmers, use an all natural clarifying shampoo with fruit enzymes and citrus extracts 3-4 times a week to help remove chlorine "green" sea salts and minerals. 
 4. Little blondes can turn very green.  Use a deep treatment to remove all traces of chlorine and damaging minerals.  Products with extracts of lemon, grapefruit and pineapple deep cleanse the hair, and creamy aloe vera, jojoba, vitamins A, D and E restore moisture and manageability.
 5. Use a leave-in sun spray to protect hair all day long.  Rich, fatty oils like banana, coconut and jojoba, will coat hair and create a barrier of protection from sun and salt water. 
 6. Use a DEET-free hair and body spray to repel bugs naturally.  Spray each morning before camp to keep little campers lice and mosquito free all summer long.