Try vegan baker and author of "Quick and Easy Vegan Bake Sale," Carla Kelly's vegan berry-infused cupcake recipe for a delicious warm weather, kid-friendly snack (or dessert!).
Make these cupcakes while your berries are freshest, then consult the storage tips at www.nymetroparents.com/bake so you can serve them in tip-top shape at your next summer picnic or get-together.
Berry-Infused Cupcakes
Makes 12 large or 18 small cupcakes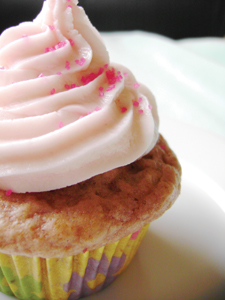 (No nuts)
I've made these using strawberries, as they give the prettiest results. You can make them with blueberries, too, but the result does tend to look a little greenish purple. If you'd like to substitute raspberries, that would be a nice option, as well.
1 cup soy milk
1 tablespoon apple cider vinegar
2 cups all-purpose flour
2 tablespoons cornstarch
2 teaspoons baking powder
1-2 teaspoon baking soda
1-2 teaspoon salt
2-3 cup granulated sugar
1-2 cup Strawberry Sauce (recipe below) at room temperature
3 tablespoons canola oil
1 teaspoon vanilla extract
1-2 teaspoon strawberry extract, or more
vanilla extract
1 recipe Buttercream, More or Less
(recipe follows) (see Note)
6 strawberries, cut, for garnish
1. Preheat the oven to 375°F and line 12 or 18 cups of your muffin pan with cupcake liners, as desired. (If not using some of the cups, fill them halfway with water so the pan won't warp.)
2. In a large bowl, combine the soy milk and vinegar, and set aside to curdle for five minutes.
3. Sift the dry ingredients (from flour through salt) into another bowl.
4. Whisk the sugar, sauce, oil, and extracts into the soy milk mixture.
5. Add the dry ingredients to the wet, fold in to just combine, breaking up any large lumps.
6. Spoon into the prepared muffin pans. If using 12 cups, they'll be full. Bake for 20 to 22 minutes, until a toothpick comes out clean. For more slightly smaller cupcakes, fill 18 liners two-thirds of the way and bake for 18 to 20 minutes.
7. Remove from the oven and let cool in the pans for five minutes, then transfer to a wire rack to let cool completely.
8. Once they are completely cool, pipe a swirl of buttercream on each cupcake, and decorate the tops with sliced strawberries in an attractive pattern, or decorate as you wish.

Note: If you make the Buttercream, More or Less with Strawberry Sauce substituted for both the extracts, you get a lovely pretty pale pink icing that is also subtly flavored.
Strawberry Sauce
Makes about 1¼ to 1½ cups sauce
(No nuts, no soy, no sugar, no wheat)
Perfect as a topping for ice cream or oatmeal, as well as in these cupcakes!
4 cups frozen or fresh strawberries
1-4 cup water
1-4 cup agave nectar
1. Combine all the ingredients in a medium saucepan and heat over medium to high heat, then boil, stirring occasionally, until thick and syrupy and the volume has reduced to half (about 20 minutes after the berries have started to boil).
2. Let cool to room temperature and blend until smooth. Pass through a sieve to remove the seeds, if desired. Store the sauce in a covered container in the fridge until required. Return any refrigerated sauce to room temperature prior to using.

Variation:
Raspberry Sauce
Same as strawberry sauce, but with fresh or frozen raspberries.
Recipes from "Quick and Easy Vegan Bake Sale: More Than 150 Delicious Sweet and Savory Vegan Treats Perfect for Sharing," copyright © Carla Kelly, 2011. Reprinted by permission of the publisher, The Experiment, LLC.
Also see: How to Store and Freeze Baked Goods