Some tips from New York City dermatologist and mom, Dr. Nanette B. Silverberg:
—A wet T-shirt has a UPF of 3 and requires concurrent sunscreen
—Standard sunscreen bottles should cover an adult for only four applications. If your bottle sits around forever, you are probably applying inadequate amounts. The less you apply, the less likely you are to reach the SPF indicated on the bottle.
—Sunscreen ingredients may destabilize over time. Toss your bottles and restock annually.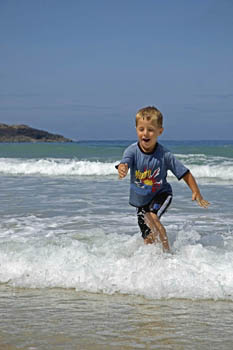 —Read labels: Certain sunscreen ingredients provide a broader protection to the skin. These include: Titanium Dioxide and Zinc Oxide, which are not absorbed in the skin and are the ones deemed safe for small infants (2-6 months of age); Avobenzone or Parsol 1789 sunscreens may be inactivated by reaction with ultraviolet light, causing a degeneration of their strength with time. Helioplex (found in Neutrogena Ultra Sheer SPF 55) and the Active Photobarrier Complex found in Aveeno sunscreens have an ingredient that stabilizes them to produce stable all day protection unless sweating or swimming wash them off.
—If you wouldn't eat it, don't apply it on your skin! Children who are allergic to foods such as soy cannot use skin care products containing the same.
Hear their pain
Swimmer's Ear is an often painful condition that plagues young water-loving children. Also known as Recreational Water Illness, it's is an infection of the outer ear canal, caused by water sitting in the ear. Drying the ear thoroughly after swimming, and using earplugs, are two ways of preventing swimmer's ear; a new antibiotic ear drop, Floxin Otic, is a topical treatment that will get your kids back in the water quickly.
Pool safety
—The Terrapin Wireless Gate Alarm is the utmost in pool safety, with an alarm that warns parents the moment a child opens the gate to a pool fence without an adult, and if the pool fence gate fails to latch closed within 11 seconds of an adult entry. $100 at www.safetyturtle.com; (800) 368-8121.
—But everyone who has a pool or is vacationing near one should review safety procedures with the DVD, Ten Minutes for Life. This DVD, from Baby Otter Swim School, offers a step-by-step guide to pool safety. $17.95 at www.tenminutesforlife.com.